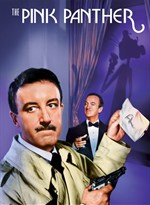 The Pink Panther is a comedy heist film that was first released in 1963.  Blake Edwards directed this film that he also co-wrote with Maurice Richlin.  Peter Sellers, David Niven, and Robert Wagner lead a pretty impressive cast.  Sellers plays the iconic and clumsy detective, Jacques Clouseau as David Niven takes on the role of master jewel thief Sir Charles Lytton, also known as the Panther.  Wagner plays Lytton's nephew, George, an irrepressible playboy with some amoral ambitions of his own.
The Pink Panther is an exotic jewel that has its origins in some fictional Middle east region.  The Phantom has his eye on it, and Inspector Clouseau has his eye on finally capturing him.  Clouseau's wife is also not all that interested in fidelity since she has a fling going on with the notorious phantom.
In many ways, I found this film to be very overrated.  I could just lack the proper taste for this kind of occasional slapstick comedy.  I found the pace very slow.  I did appreciate the cinematography.  There is some striking scenery presented here throughout.  Some of the gags went on much longer than I appreciated.  I understood the reputation for idiocy Clouseau carried, however I didn't have much fun actually seeing it.
Maybe this type of film with this type of humor just doesn't age well.  Maybe I am never going to be a Clouseau fan.  The film has moments where it can look gorgeous at times, and the talent that was cast is formidable, but it moves too slowly at times and just failed to keep my attention as much as I had hoped.