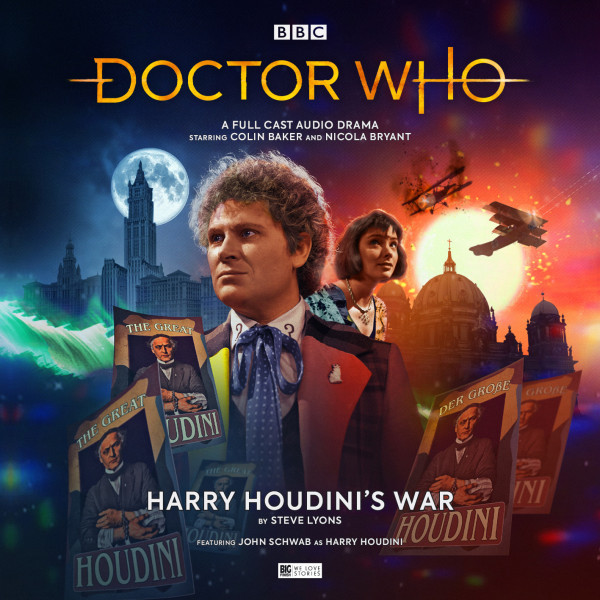 "Harry Houdini's War" is a Doctor Who audio play released by Big Finish Productions. Ken Bentley is the director of this latest contribution by Steve Lyons.  Colin Baker and Nicola Bryant return again to their roles of the Doctor and Peri, respectively.  John Schwab plays the famous escape artist with Fiona Bruce, Mark Elstob, and Glen McCready rounding out the guest cast.
Harry Houdini is enlisted by the Doctor to help infiltrate a spy ring during the First World War which may be in possession of some alien technology.  The Doctor also has to play some cards close to the chest, giving Houdini some reason to not entirely trust the Time Lord.
 I usually am interested in what Lyons comes up with for the Doctor and his meanderings, however I don't think this is one of his better efforts.  Once again, it is Colin Baker's energy and talent which keeps this afloat.  This may be one of those releases that I will appreciate more on the second run.  The performances were fine, but I had some trouble following the plot.  I did find the second half a bit more interesting.  Schwab's take on Houdini was rather engaging, and I wouldn't object to see a return of this iteration of the iconic illusionist in the series. It was also rather interesting to see a more Machiavellian streak in this version of the Doctor.  That particular trait becomes more evident in his seventh incarnation.
Lyons is still a talented and imaginative author, and I have enjoyed plenty of his previous contributions, but this particular episode just didn't grab my attention and keep it as much as I hoped.