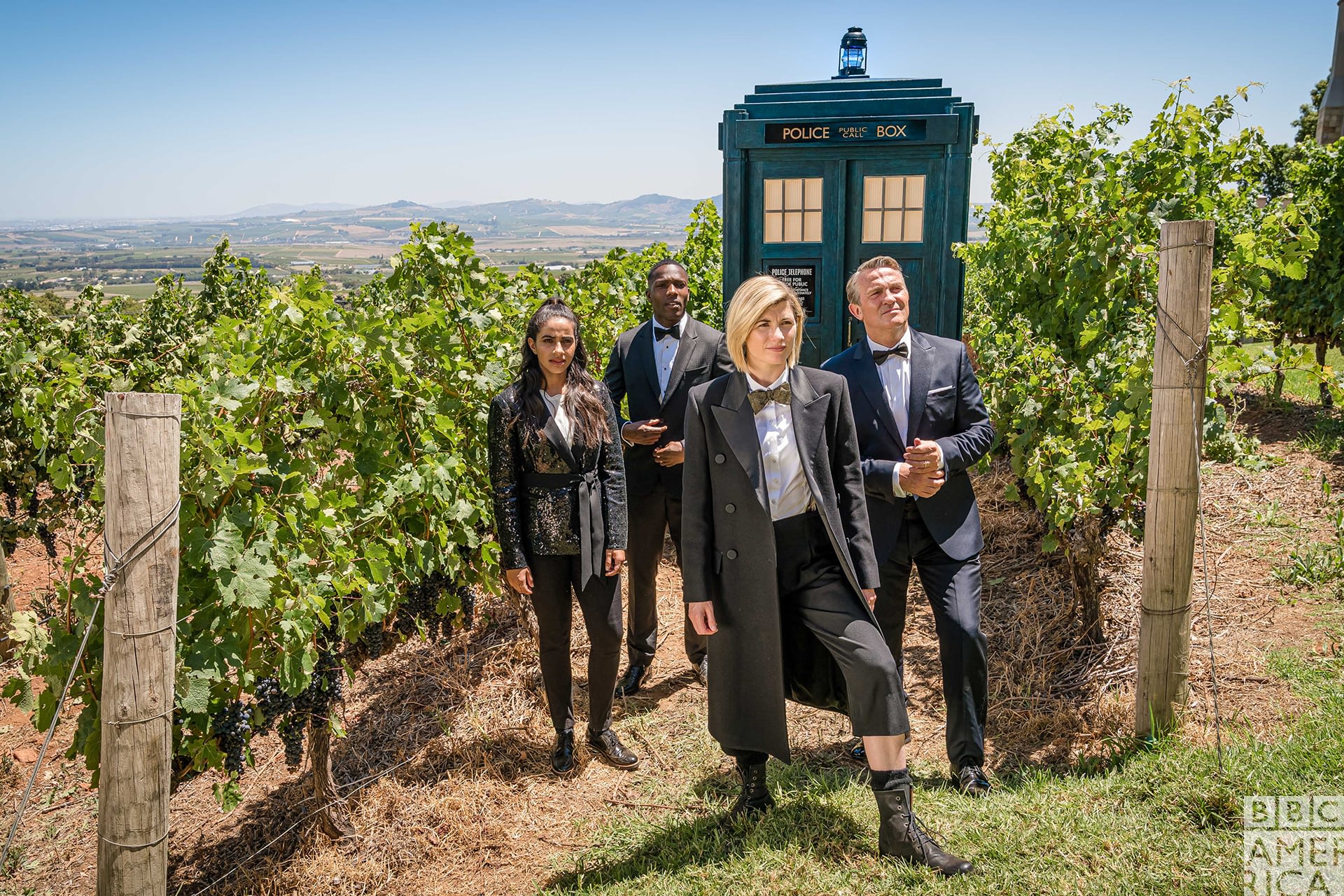 Spyfall-Part One starts off the twelfth series of the revived Doctor Who.  Jodie Whittaker is still the Doctor.  Bradley Walsh, Tosin Cole, and Mandip Gill return to their repective roles of Graham O'Brien, Ryan Sinclair, and Yasmin Khan. The executive producer, Chris Chibnall, wrote this particular episode which was directed by Jamie Magnus Stone.  Notable guests are Stephen Fry and Lenny Henry.
The story starts off with various British spies being killed by some flashing entity coming out of boulders, walls, and ceilings.  The head of MI6, known as C, summons the Doctor and her companions to help figure out the source of this obviously extraterrestrial attack.  The search takes the Doctor and her team in various parts of the world. There's a big twist toward the end as the Doctor learns that something or someone wickedly familiar is behind the alien menace.
I have mentioned before that changing the gender of a character who has been around as a male for over half a century since the conception by BBC was not my favorite decision imposed.  I am not a fan of Chibnall's production decisions.  I think the TARDIS is a bit crowded, although three companions have worked somewhat well before in the show's past.  I do like the dynamic between Graham and Ryan.  Yasmin has struggled with having a consistent purpose for her presence.  The social messages have been delivered with too much bluntness for what is supposed to be largely an entertaining science fiction program.  In short, this is not my favorite era of Doctor Who.
Saying that, this episode does have a few improvements from what grated on me over the previous series.  The cause of these attacks was somewhat intriguing.  Whittaker herself was not quite so annoying, but that may just be me getting used to her.  I will say that I do not like the obvious James Bond riff depicted here.  In the era of what is now known as Classic Doctor Who, the influences of other genres or writings was shown with a bit more subtlety.  This business of distorting titles from other franchises or other works should really stop.
As much as recent creative and production decisions have exasperated me at times, I am not ready to give up on a series which has been a source of such joy and diversion for me since childhood.  I was relieved that I found myself getting drawn in, anxious for the revelations to unfold.  I will also mention that some of the latest changes of the TARDIS interior actually is an improvement over the last series.  This wasn't a great episode by any means, but I would consider it an improvement over how Whittaker's version of the Doctor was introduced.