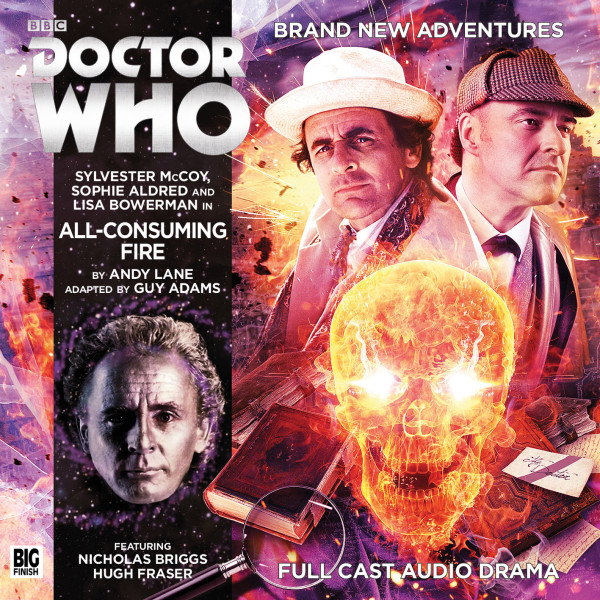 All-Consuming Fire is a Doctor Who audio play from Big Finish Productions with a somewhat complicated origin.  It is based on a novel that was written in 1990's as part of range of Doctor Who novels known as The New Adventures.  Andy Lane wrote the novel with Guy Adams adapting it to audio format.  Scott Handcock is in the director's seat. Sylvester McCoy returns as the Doctor's seventh incarnation with Sophie Aldred and Lisa Bowerman alongside as Ace and Professor Bernice Summerfield, respectively.  Big Finish also has a range of Sherlock Holmes audio plays as well, so of course, Nicholas Briggs returns as the iconic fictional detective with Richard Earl playing Doctor John Watson.  Hugh Fraser, Anthony May, and Samantha Beart are included in the guest cast.  Fraser's participation is somewhat notable since he is best known as the sidekick to another iconic fictional detective in Agatha Christie's Poirot, which starred the great David Suchet.
So the Doctor and Sherlock Holmes finally cross paths.  Holmes is engaged to solve the theft of rare and ancient volumes from the Library of St, John the Beheaded and finds that it is merely a precursor to cosmic war and the resurrection of an ancient evil that will face the combined wits and determination of a renegade Time Lord and London's most renowned consulting detective.
This is a pretty entertaining installment here.  It's a little jarring mashing up the worlds of Doctor Who and Sherlock Holmes, but the performances and the history of this particular release sort of helps one shrug it off and just go with it.  McCoy is quite good here, and the verbal sparring between the Doctor and Holmes is worth the price of admission.  I have mentioned this before when discussing the Sherlock Holmes audio range, but Richard Earl continues to excel in his interpretation of Watson, especially as a narrator.  He just has a perfect voice to represent the classic Victorian gentleman.  Bowerman is also a welcome addition here since she has a perfect voice to represent Benny's wry outlook when she narrates.
Aldred didn't seem to have much to do, but someone was likely to get short shrift given the high volume of strong protagonists.  During the moments when Ace was up to the plate, Aldred comes through as usual.  She still had more to do than act as a cameo.
I didn't find the alien menace to be all that memorable.  The story probably does not work quite as well on audio as it does as a novel, however I still enjoyed it well enough.  Briggs is a massive fan of both Sherlock Holmes and Doctor Who, and I have heard enough of him in interviews to appreciate his enthusiasm.  There are better interpretations of Holmes out there, however I am getting accustomed to Briggs' efforts. Briggs isn't a bad performer overall.  When he shows up as other characters on other Big Finish releases, he does fine.  He is also doing fine as Holmes, so I don't mind him indulging himself here. The real treasure is Richard Earl though on that pairing.
Even if the plot is a little confusing and does not translate all that well as an audio play, the performances are entertaining enough for me to find plenty of forgiveness for the flaws.  The elements to appreciate do outweigh the reasons for reservations in this episode.