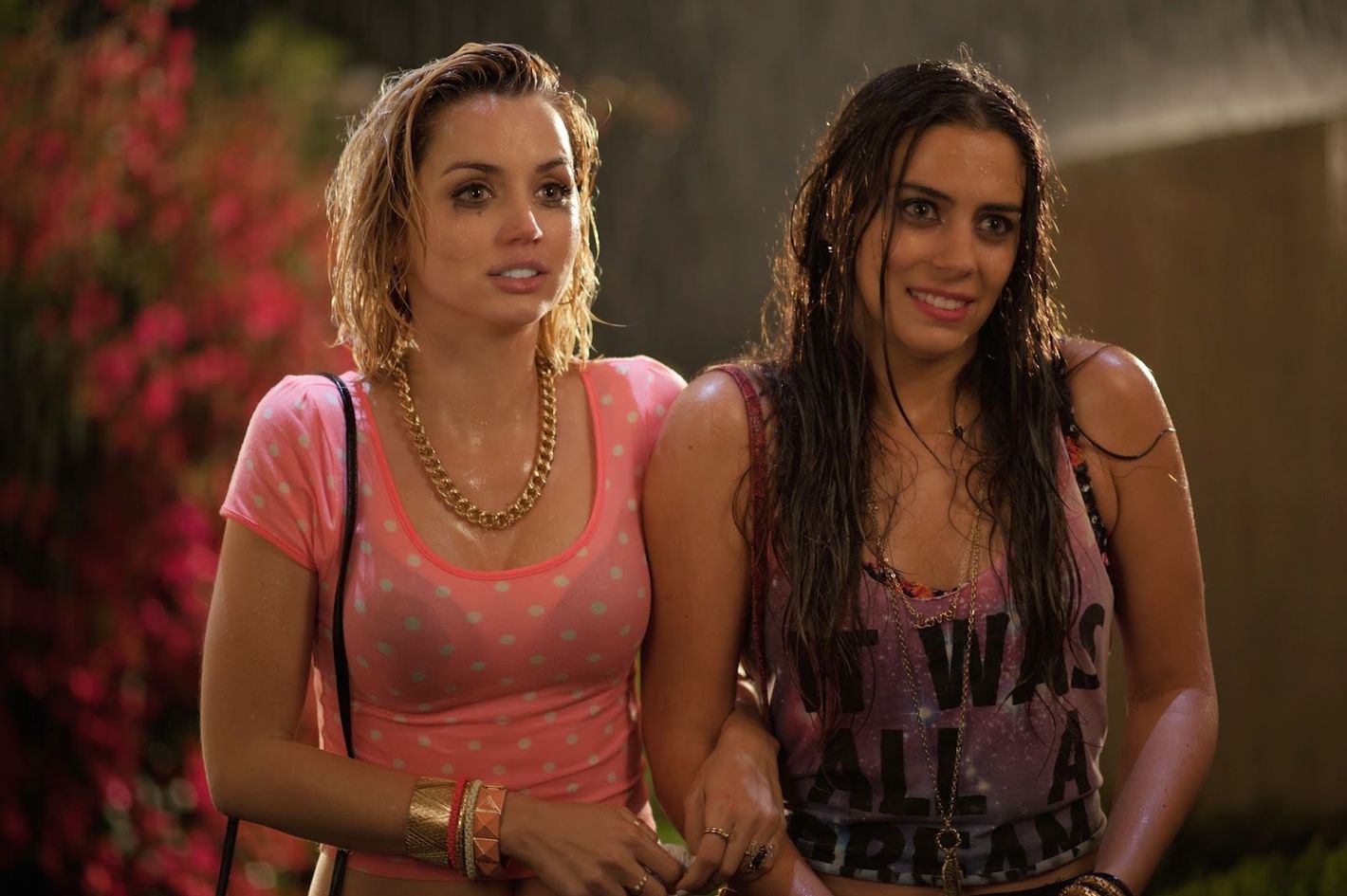 Knock Knock is a thriller directed by Eli Roth. He also shares screenwriting credit with Guillermo Amoedo, and Nicolas Lopez. The story was conceived by Anthony Overman and Michael Ronald Ross, which is a little confusing since this film is a remake of a film called Death Game. Keanu Reeves stars as architect and doting husband and father, Evan Webber. The cast also includes Lorenza Izzo, Ana de Armas, Ignacia Allamand. and Colleen Camp.
Evan Webber has the weekend to himself when his family take a little holiday to the beach, leaving him to work and attend some physical therapy appointment for an injured shoulder. A storm rolls in and bring two ridiculously attractive young women show up at his doorstep claiming to have been stranded by a taxi at a wrong address. Evan, being ever the gentleman, invites them in to dry off and make other arrangements for transportation. The devious pair of beauties have other plans when they seduce Evan into a threesome and stay into the next day. Then comes the psychological and physical torture at the hands of two women who are now claiming to be underage.
It's an interesting idea to have a man fall victim to two bewitching women, but the absurdity is also a bit much at times. There is a morality lesson at the heart of this about Evan's lapse in fidelity. It probably would have been more interesting if Evan didn't fall for the initial charms for whatever reason. It's just another jab at men in general by Hollywood, I suspect. There are times that the performances are engaging enough. The film very much earns its R Rating and probably deserved a mature designation. The sex scenes are pretty intense. After a while, the film also does get somewhat predictable. Some of the dialogue made me cringe as well, but that also could have been Keanu's delivery at times. After a while, the mania exhibited by the two intruders gets to be more grating than terrifying.
Finally, this film has moments that are semi-compelling, but it fails to leave any real lasting impression that made the time worthwhile.