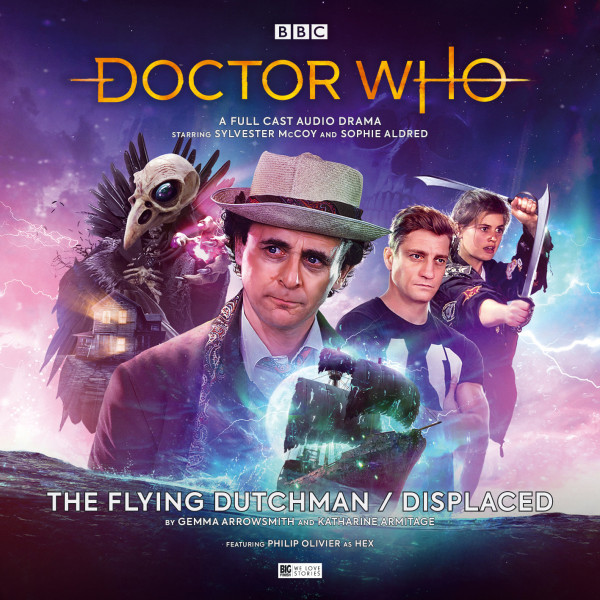 The Flying Dutchman/Displaced is a Doctor Who audio double feature from Big Finish Productions and stars Sylvester McCoy accompanied by Sophie Aldred and Philip Olivier. Big Finish just can't seem to let Hex go, and that's okay with me. Olivier reprises the role of Thomas Hector Schofield in a pair of adventures that apparently occurred early in his time in the TARDIS. Hex already has a departure story in the Big Finish archives, but it was decided that there were stories that we had yet to hear with him. Samuel Clemens directed this pair of adventures. The guest cast is comprised of Nicholas Khan, Stephen Wright, Nigel Fairs, Carly Day, Patience Tomlinson, and Alexander Bean.
The Flying Dutchman is written by Gemma Arrowsmith and has the TARDIS crew aboard what first appeared to be a deserted ship in the 1740's. The trio finds the crew in hiding after an encounter with a ghost ship on the high seas known as The Flying Dutchman. The Doctor, of course, is skeptical that there are actually ghosts wandering the deep blue sea. This was a pretty good pirate tale in the end. There was an ocean battle that probably would have worked a little better as a visual experience, but it was fine. No good sea tale is complete without a mutiny and that happens as well. It's a fun romp on the high seas with a main cast that I have come to appreciate more over the years. It was fun revisiting the chemistry between Ace and Hex with their strange monikers.
As good as the first story was, I think I preferred Katherine Armitage's Displaced. It probably is because it takes place in a spooky, deserted house, and our intrepid time/space travelers are trapped with a puzzle to solve. There is a family that is dead, and an Artificial Intelligence that may or may not much help. There is some tension between the Doctor and his companions when they suspect that he had somehow arranged the situation as some kind of test. This version of the Doctor is the manipulative cosmic chess player, and his companions' concerns are not unfounded. Olivier's performance here is quite compelling when Hex expresses disgust and frustration at how the Doctor behaves sometimes. The character moments is what really holds the interest here, but the story itself was also pretty interesting.
I said that I preferred the second story by Armitage, but this was a pretty solid release overall. McCoy, as expected, does a great job with presenting his Doctor. His era on television had some creative troubles, but Big Finish has gone a long way to raising my appreciation for the Seventh Doctor. Aldred is no longer a teen-ager as Ace is supposed to be, but she still sounds pretty well like she did almost thirty years ago in the television series. The addition of Hex in the mix is fine, but I would prefer if some new ground was broken here. Even if I want a bit more forward movement with each of the Doctors, the stories were good enough for me to not mind the return of Hex much. I certainly want more stories with Sylvester McCoy's Doctor.