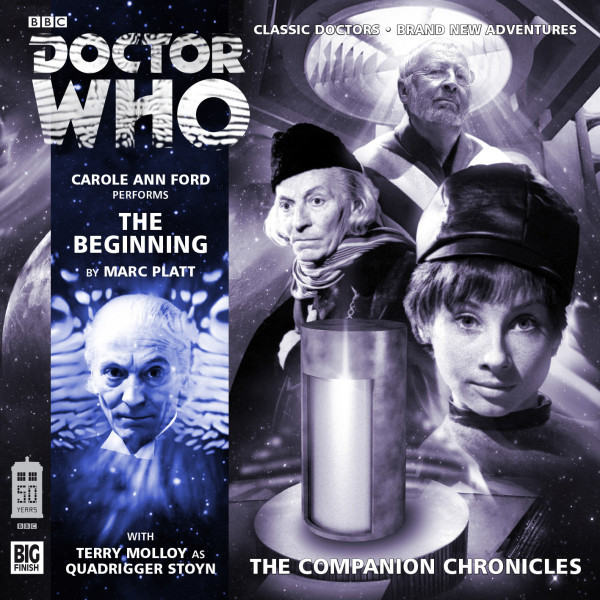 The Beginning is a Doctor Who audio play from Big Finish Productions and is an episode from the range known as The Companion Chronicles. Carole Ann Ford reprises her role as Susan, granddaughter of the space/time traveler known as the Doctor. She is joined by guest actor, Terry Molloy as a mysterious character named Quadrigger Stoyn. Marc Platt has written the script with Lisa Bowerman once again serving as director.
Well, it had to happen. Big Finish has decided to tackle the circumstances of the Doctor's departure from his home planet. Susan relates the tale of their escape from their planet and their subsequent encounter with Quadrigger Stoyn who was aboard the purloined TARDIS. The Doctor, Stoyn, and Susan are also confronted by other alien beings.
I had a little trouble following this story for a bit, but I do appreciate the performances and the effort to tap into this era of the Doctor's journey. Terry Molloy was one of the actors who had portrayed Davros, the creator of the Daleks, in the television series and has continued that performance for Big Finish. He has a new adversary to play now and does not need a voice modulator this time. He is quite good although there is yet much to understand about Quadrigger Stoyn.
Carol Ann Ford remains in good voice despite her age. The story presented by Platt may need another listen in order for me to understand and appreciate, but he tends to like a few extra layers in his plots.
The episode was actually released in 2013 and was part of Big Finish's efforts to commemorate the fiftieth anniversary of Doctor Who.
In spite of this coming across as a bit convoluted, the episode works, and I will likely clear up some of the questions I have by listening to it again. The performances are strong from both actors. The sound effects were as convincing as I would expect. It was still exciting to experience what the Doctor's escape into the cosmos on some level. Platt did take good care to respect the show's canon, such as it is. Quadrigger Stoyn is an interesting adversary and is likely to reappear to bedevil the Doctor further.