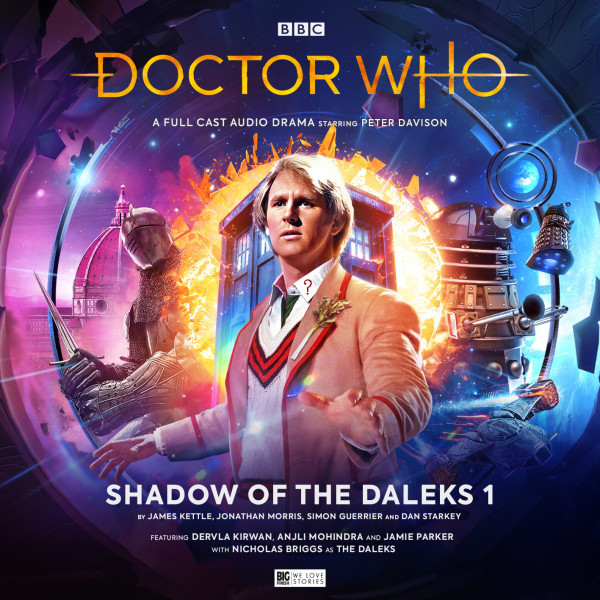 Shadow of the Daleks 1 is a small collection of audio vignettes from Big Finish Productions starring Peter Davison as the Fifth Doctor. Obviously there will be a second volume as a follow up, but I have yet to hear that one. Ken Bentley is the director of these four tales with Jamie Parker, Anjli Mohindra, Dervla Kirwan, Glen McCready, and Nicholas Briggs. Nicholas Briggs is back to voice the dreaded Daleks.
This is kind of an interesting idea with the Doctor being on the fringe of the Time War, which really doesn't into play very much until his later incarnations. The Daleks' involvement is rather more subtle than usual with them exerting more of a haunting presence in these stories instead of just barging through corridors with their grating screams of "Exterminate!". This is actually a set of four individual stories with the Doctor traveling on his own tracing the anomalies in time and space that hint at the presence of his most familiar of enemies. It's all very mysterious and troubling. I loved it. So, let's break down the stories and bit and give some credit to the various writers' creativity.
James Kettle starts off this little odyssey with Aiming for the Body in which the Doctor finds a small group stranded in some kind of desert or something with a rather notorious cricket player. He finds that what the people he has met may be a disguise employed by the Daleks. He is certainly being affected by what could be described as hallucinations of his oldest enemies. It's a good enough introduction to keep me engaged. The mystery continues into the next story in which the Doctor sees the same group of people but with new identities in the far future.
And that takes to Lightspeed by Jonathan Morris, a much more familiar name of Doctor Who contributors. A hijacking has been planned, and the Doctor of course finds himself caught up in peril. This is a pretty straight forward story, however the presence of the Daleks is still felt. It's not a bad story but not really that memorable.
I am not sure if it's just because the setting appeals to me, but Simon Guerrier's The Bookshop at the End of the World struck more of a chord with me. The Doctor shows up with no memory as to own identity in a storm at a bookshop which also doubles as a pub. I understand that is actually a thing in some countries. It's actually a much more enigmatic and surreal story in this anthology. Of course, the same group of faces populate this little shop but are in possession of different identities.
And Dan Starkey completes this little set with Interlude in which the Doctor finds himself in a play where he is preforming for an ominous audience. This one was a little tricky to follow at first, but it still managed to keep me enthralled as to what was going to happen next.
I almost always enjoy Big Finish plays, but this one was kind of special. This effort seemed to be highly unusual for this particular Doctor, and I loved the concept. I am not sure why the Doctor is on his own here because there is not much of a way to fit in solo adventures if one was going to stick strictly to the canon of the television series. Fortunately, the stories were all interesting enough for me to not dwell on that too much. Davison puts in a solid performance, but he always does. I liked the mysterious foreshadowing of the Doctor's future as well. I also appreciated the Daleks being employed a little subtly. The good news is the Doctor's search is only halfway though. There is another volume to purchase and play, and it won't be too much longer before I get to see…or rather hear how this all comes to a head.