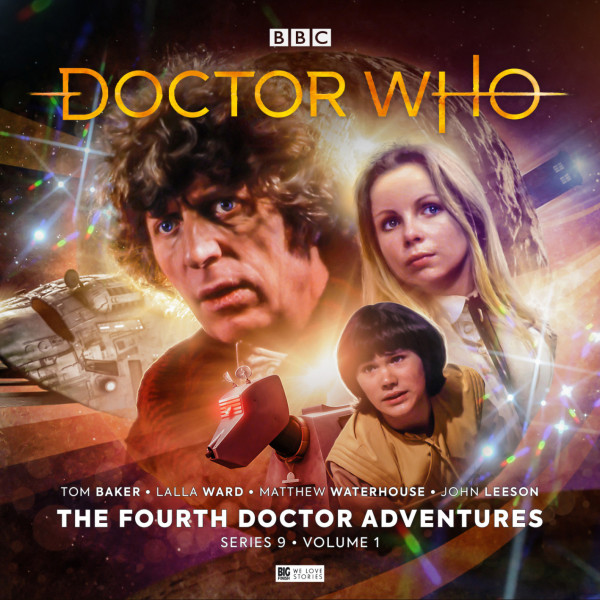 The Fourth Doctor Series 9 Volume 1 is a Doctor Who audio collection from Big Finish Productions. There are two adventures starring Tom Baker, Lalla Ward, and John Leeson. There are now joined by Matthew Waterhouse, reprising his role as Adric. Both episodes are directed by Nicholas Briggs. These two stories take place during the era of the television series in which the TARDIS was trapped in another universe known as E-Space where the Doctor, Romana, and K9 encountered an orphan who stowed away known as Adric. The television series only aired three stories that took place in E-Space, and Big Finish decided to add a few more stops before the Doctor escaped. I am glad they did.
Let's take a look at the two stories in this set. Both are actually pretty engaging.
Marc Platt is the writer of Purgatory 12. The guest cast is comprised of Nimmy March, George Watkins, Amy Downham, and Liam Fox. The Doctor and his friends find an asteroid that serves as a penal colony, however the more dangerous feature here is the presence at the center of the rock that causes more havoc than the denizens of Purgatory 12. The story works well, but I thought it was more interesting to actually the dynamics of Adric's sudden appearance of in the TARDIS and the aftermath of his brother's death in the television story Full Circle. Big Finish does more to explore the relationships between the characters than what was written in the television series, and I actually found Adric to be a bit more tolerable. As usual, some of the imagery evoked by the story is a little hard to focus just by dialogue and sound effects, but I appreciated the episode overall. Tom Baker still sounds like he is having a ball, but he is my favorite Doctor, so I may be somewhat biased.
Chase the Night is written by another longtime Doctor Who contributor, Jonathan Morris. The guest cast for this one features Jane Asher, William Gaminara, Lucy Heath, Christopher Naylor, and Tania Rodrigues. This one has a unique concept of a crashed spacecraft that was converted into a kind of train in order to stay ahead of the dawn since the sunlight on this particular planet destroys everything in its path. But there is more to the planet than just an unusually destructive morning. This story had an interesting concept with a crashed ship being converted to survive an eternal trip around the planet as the surviving crew needs to stay in the night side. It appears to be an ambitious story idea, but Morris sells it quite effectively.
I probably prefer Chase the Night out of the two, but both episodes are quite enjoyable. There were some tales of tension between Waterhouse and Tom Baker many moons ago but that seems to have been healed by the passage of time. Of course, Tom Baker and Lalla Ward were once married, but any awkwardness from that seems to have also dissipated. Anyway, it was a fun set, and there are two more stories to get from this particular era. Waterhouse is considerably older than when he first played Adric. but he still manages to find the right tone in his voice to resurrect the youthfulness of that period in his life. Adric was never my favorite of the Doctor's companions, but I am somehow glad that Big Finish was able to revisit this particular era. I am glad Waterhouse has been able to make a return to enjoy the nostalgia and still provide an effective performance. The ninth series Fourth Doctor adventures from Big Finish looks to be a fun ride, and I will be getting the second half very soon.