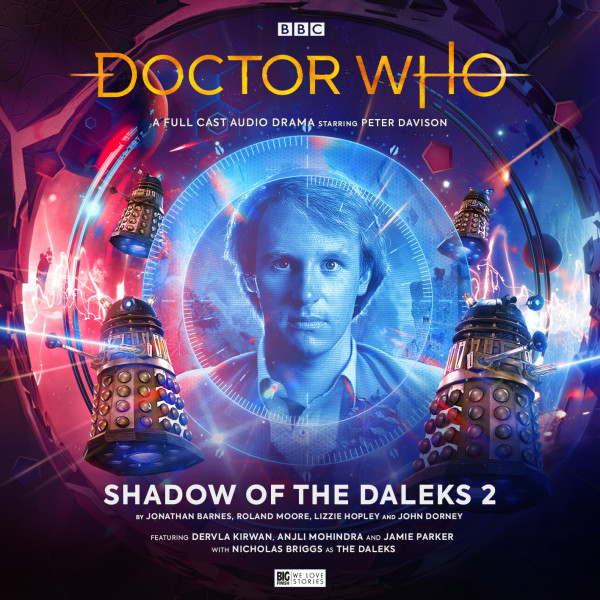 Shadow of the Daleks 2 is a Doctor Who audio play from Big Finish Productions which continues the story of the Fifth Doctor following what he calls a temporal trail leading to another confrontation with the Daleks. There are four short plays directed by Ken Bentley that make up this compilation that was started in the previous release, Shadow the Daleks 1. The Doctor is played by Peter Davison. He keeps finding himself in the different situations and setting where he sees the same four faces in different guises. The guest cast is comprised of Jamie Parker, Anjli Mohindra, Dervla Kerwin, and Glen McCready. Nicholas Briggs fires up the voice modulator in order to rant and shriek as the Daleks. I was pretty enthusiastic about the first half of this saga, and this second half does pretty well. I think I liked the first one better since I was less familiar with the set-up.
The collection begins with Echo Chamber by Jonathan Banks. The Doctor curiously finds himself as a host of a radio talk show and is not sure how he got there. An rather interesting concept that seems pretty workable in only a one part story. A rather amusing beginning that turns rather dark toward the end, which is appropriate when the Daleks are involved.
Roland Moore follows that up with a pretty impressive story entitled Towards Zero where the Doctor arrives at an old country house in time to solve his own murder. It's a pretty convoluted setup but an intriguing story that moves the Doctor in a direction where he starts to get answers.
Castle Hydra is the third story and is written by Lizzie Hopkins. The Doctor arrives at a castle that serves as a prison for some familiar faces and answers are coming to light as to why the Doctor knows the faces involved in his most recent adventures. Some of the action sequences were not quite as effective on audio, but Hopkins seems to be a competent enough writer, and I will be interested to see what else she comes up with in future scripts.
John Dorney brings the whole matter to a conclusion with Effect and Cause. Dorney is a frequent contributor to Big Finish scripts and does a very nice job of bringing this series to a close. The explanation for this confusion in time and reality is actually pretty creative.
The first volume is probably a little better, but I also had a better idea what to expect in this one. Peter Davison puts in a pretty good performance as usual. There was no explanation as to why this Doctor was on his own through this whole thing, but I found myself not caring much about that. This was an unusual set of adventures for this Doctor as I noted in my entry concerning the preceding volume, but I was glad some risks were taken by Big Finish in this.