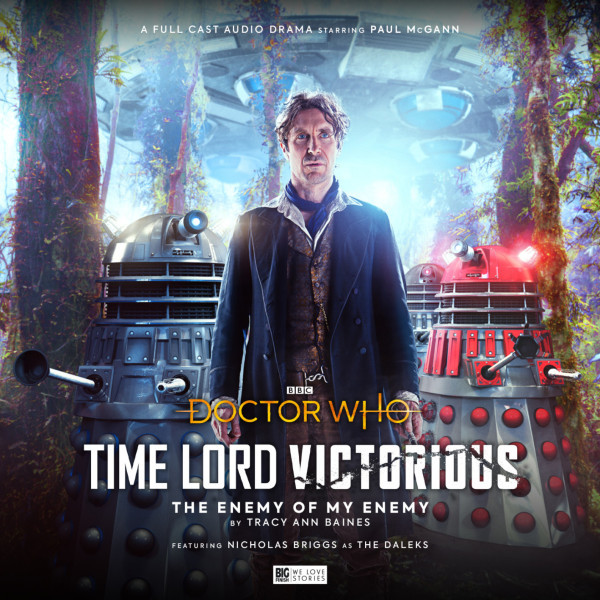 Time Lord Victorious: The Enemy of My Enemy is a Doctor Who audio play from Big Finish Productions and stars Paul McGann. This script was written by Tracy Ann Baines with Scott Handcock serving as director. Nicholas Briggs returns yet again to voice the Daleks. The rest of the cast is comprised of Rachel Atkins, Raj Ghatak, Samantha Béart, Stephen Critchlow, and Jacob Dudman.
The Doctor has been taken prisoner by the Daleks….again. The Daleks are worried when they detect alterations in timelines. The propose an alliance with the Daleks to get to the bottom of such a desecration to cosmic balance. The path takes them a planet known as Wrax. This is a planet the Doctor remembers being an uninhabited rock, however the force changing the timelines actually now provides a population. A population that is in possession of a weapon in which the Daleks are interested. The Daleks then uncharacteristically propose a peace treaty, however the matter isn't that simple. The Daleks are involved, and the Doctor is understandably suspicious.
So this story takes place on the cusp of the legendary all-consuming Time War. I am always glad when some new writing talent crops up at Big Finish, and this story from Tracey Ann Baines has an interesting premise. Some kind of Dalek Strategist ends up serving some of the purposes of the Doctor's companion. This is rather a tall order considering that it would be hard to engage in the usual banter the Doctor would have with his usual choice of a companion with a Dalek at his side. This is also a recent recording done while the United Kingdom was in lockdown due to the COVID 19, but the post production work is solid enough where it is hard to tell. I only know it because it is mentioned during the cast interviews at the end of the CD. The guest cast is also well selected, as usual. McGann still sounds great as the Eighth Doctor, who exhibits a cheeky suspicion at his newfound alliance with the Daleks.
The Daleks are a bit overused sometimes, but this episode ended up being pretty intriguing. It will be interesting to see, or rather hear, if more scripts from Baines are soon to come.
And the contest between the Doctor and the Daleks continues….