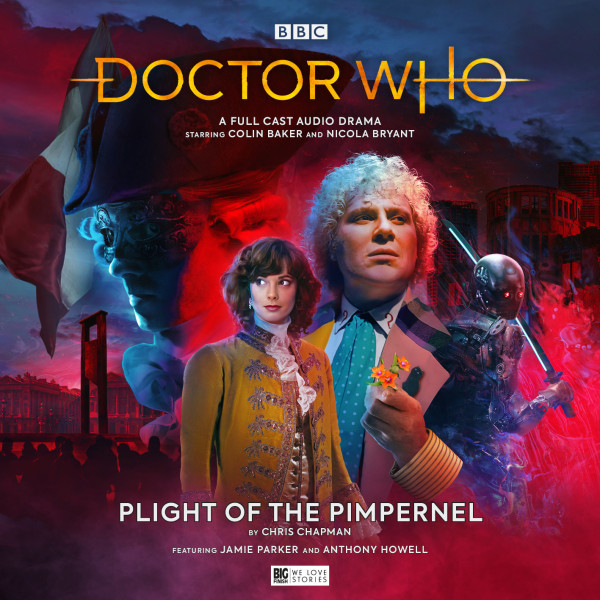 Plight of the Pimpernel is a Doctor Who audio play released by Big Finish Productions and is written by Chris Chapman. John Ainsworth serves as director of this episode which stars Colin Baker and Nicola Bryant as the Doctor and Peri, respectively. The guest cast is made up of Jamie Parker, Anthony Howell, Joe Jameson, Stewart Clarke, Rebecca Crankshaw, and Becky Wright.
So, this adventure features the Doctor and Peri meeting someone in 1793 France claiming to be the Scarlet Pimpernel. Before Batman, there was the Scarlet Pimpernel who was created in early twentieth century by Baroness Orczy. The Scarlet Pimpernel was a masked figure who rescued French aristocrats from the guillotine during a period known as the Reign of Terror. The Doctor is somewhat troubled by this since the Scarlet Pimpernel is a fictional character, unlike the Doctor, for the purposes of this story anyway. Matters get even more problematic when murderous androids turn up,. The Pimpernel, played by Jamie Parker, seems to have all kinds of secrets which puts Earth in trouble. Of course, the Earth is often in trouble when the Doctor is on the scene.
This story starts off as what appears to be a pretty fun romp. There is quite a bit of humor at first. The Doctor and Peri have gone undercover, and Peri is apparently posing as the Pimpernel's wife when this adventure starts. The second half of the story gets a bit grimmer as the identify of the man playing the Pimpernel is revealed. There are some great performances here. Colin Baker's version of the Doctor really shines in moments of righteous indignation, and he gets a particularly memorable moment when a rather profound betrayal is uncovered. Peris gets to indulge in a profound telling off, which is performed beautifully by Nicola Bryant. The guest cast is pretty well selected. Jamie Parker has a very distinct voice and was well chosen to play the Pimpernel. This episode has one of the most surprising twits I have heard in some time. The sound effects were also convincing. This is another episode which was recorded while the United Kingdom was in COVID lockdown.
Although it seems that I have not heard an episode from Big Finish that was really bad in some time, I do find this particular episode to be one of the better ones recorded in recent years.