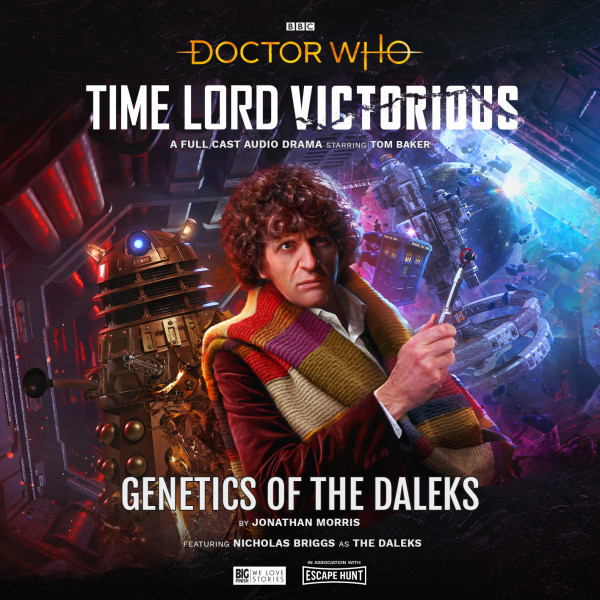 Time Lord Victorious: Genetics of the Daleks is a Doctor Who audio play from Big Finish Productions. Tom Baker stars in this episode which was written by Jonathan Morris and directed by Jamie Anderson. Joining the formidable Mr. Baker is Pippa Haywood, Clive Mantle, Nina Toussaint-White, Andrew James Spooner, Joseph Kloska, and of course, Nicholas Briggs. Briggs of course provides the voice of the metallic and dreaded Daleks. This episode is part of this rather ambitious saga known as Time Lord Victorious and serves as a prequel of some sort to an escape room somewhere.
The Doctor arrives aboard a starship known The Future in which many humans were in suspended animation on the way to colonize somewhere. At some point, the few crew that were awake at one time take in a lone and apparently empty Dalek found in space. Yeah, notice I said "apparently empty". Anyway, the lone Daleks is enough to cause some lethal mischief, and the Doctor typically will be the only one able to help out. However there are traitors and criminals aboard to further complicate matters.
It's Tom Baker in this one, so it would be hard to be critical here. However, this episode turns out to be quite good, so I don't have to be all that harsh. Actually, Baker is still quite good, but Morris provides a bit of intriguing foreshadowing here since the Dalek reveals he has already met a future incarnation of the Doctor, which kicks this adventure into higher gear. I think there are elements or stories from the Time Lord Victorious series I have yet to get to. There are novels and comics tied to this particular saga as well.
The performances are pretty good, but I really enjoyed the challenges and revelations between the Doctor and the Dalek. This Doctor is still as irreverent and imposing as ever. The guest characters are compelling. There are some pretty good twists. There is a pretty chilling moment when one of the characters gets mutated and transformed in to a Dalek. It's a good thing I was not driving in the dark when I was playing this one.
Just about every element here works quite nicely. Tom Baker still does a very capable and compelling performance. It is still easy to tell how much he enjoys being in the role without all of the physical demands.
This a solid, claustrophobic sort of romp at which Doctor Who excels at so thoroughly.