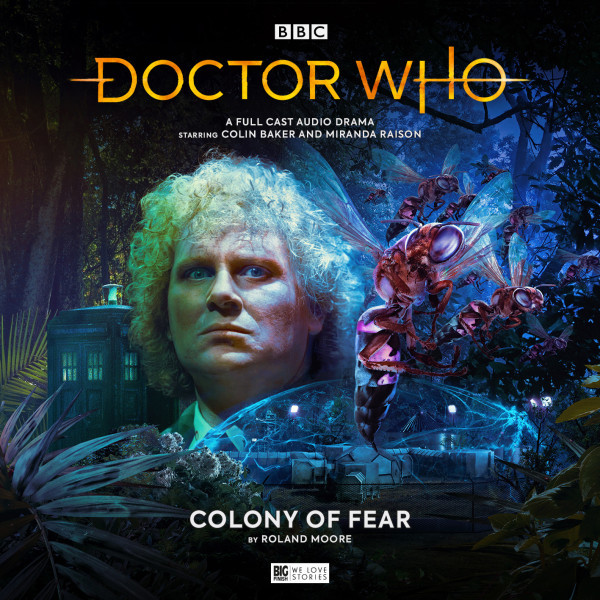 Colony of Fear is a Doctor Who audio play from Big Finish Productions and was written by Roland Moore. It was directed by John Ainsworth. Colin Baker and Miranda Raison lead this episode as the Doctor and Mrs. Constance Clarke. Joining them as the guest cast are Nicholas Asbury, Rachel Atkins, Misha Malcolm, Leighton Pugh, and Andrew James Spooner. I have heard none of these people, but they all did quite well considering this was recorded during COVID lockdowns in the United Kingdom. Baker and Raison always do well, and Mrs. Clarke has become a favorite of mine among the original Big Finish companions. So More Mrs. Clarke please!
The TARDIS answers a distress call which brings the Doctor and Mrs. Clarke to a human colony on a planet known as Triketha. The colonists are being menaced by a swarm of wasp-like beings which places them in a coma after their sting. The colonists recover after about three days, but something may have been left behind which will have more permanent effects. As the Doctor works to discover the origins of these insects, he finds that someone from his past has also appeared. The problem for the Doctor is that he has no memory of this person and would need to submit himself to the hive mind of the alien insects to learn the truth.
This episodes presents some interesting mysteries and threats here for the Doctor. There are some familiar elements such as ravenous alien insects and isolated colonies or bases under siege. It feels like no new ground has really been broken here, however the story still works. The mystery of the character known as Tarios and his connection to the Doctor was quite compelling. The Doctor has a rare moment of facing up to the consequences of his sometimes haphazard way of treating those in his company. Whatever new ground was broken is pretty subtle and intriguing. The performances were solid as expected. I enjoy the banter between the Doctor and Constance Clarke. Mrs. Clark was known as a WREN during World War II and has a pretty strict demeanor which plays well against the Doctor's sometimes brash approach to various challenges. Mrs. Clarke is not just strict though. She does have the courage and compassion needed to cope with the Doctor's various adventures.
Anyway, this particular episode did have plenty of intriguing elements and not all of the questions get answered regarding the Doctor's relationship to Tarios. Moore displayed a talent to tantalizing the audience's imagination and curiosity. This story apparently had gone through several revisions, and it seems that Roland Moore and the script editors landed on a very satisfying version.