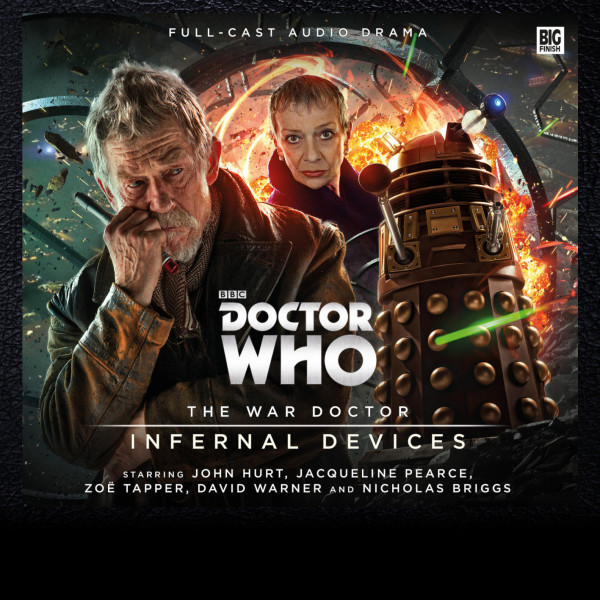 The War Doctor: Infernal Devices is a Doctor Who audio boxset containing a trio of episodes starring John Hurt as the incarnation that has come to be known as the War Doctor. All three episodes are directed by Nicholas Briggs, who also performs as the Daleks. Hurt is joined by an impressive guest cast that includes David Warner, Jacqueline Pearce, Zoe Tapper, and Tracy Wiles.
The War Doctor was introduced during the fiftieth anniversary episode known as Day of the Doctor in 2013. This incarnation renounced his name due to his disdain for what he would have to do as the Time Lords and the Daleks faced off in the Time War. The cosmos has gone insane and was on the verge of the being ripped apart as the conflict escalated. The Doctor became a warrior when he found that he could no longer stay on the sidelines. Big Finish Productions released some stories which chronicled the actions of this darker version of the Doctor.
Legion of the Lost by John Dorney starts off this little bundle in which the War Doctor finds that Time Lord casualties are being resurrected at the cost of another intelligent species. Dorney delivers a solid start here Hurt portrays the War Doctor's outrage at this latest atrocity committed by his own people quite convincingly. I thought some of the ethical dilemmas presented here were quite intriguing.
A Thing of Guile is up next is written by Phil Mulryne. Pearce takes a more central role as Cardinal Ollistra, a Time Lady in power willing to cross all manner of boundaries to defeat the Daleks. The War Doctor is considered a prisoner of war and compelled to help the Time Lords investigate the latest Dalek stratagem. Pearce and Hurt have an amusing and fascinating banter containing threats and mutual disdain. The story also contains giant worms, and who doesn;t appreciate that? The antagonism between Ollistra and the war Doctor is quite the treat in this one.
Matt Fitton concludes this set with The Neverwhen. This is where the War Doctor gets the shock of his lives when he finds the most of infernal of devices being used in a war that has escalated to more than a fever pitch.
The writing is pretty good, although I am not exactly sure how John Hurt's take on the Doctor is that different than his other incarnations. The War Doctor still wants to save lives. Hurt has a distinctive voice and delivers the barbs at his fellow Time Lords effectively enough. Some of the battle sequences are a little hard to follow with just audio. Big Finish does an effective job with post-productions. I don't really dislike the War Doctor, but I am not finding him quite as dangerous as I imagined when he was first introduced. Anyway, it's a solid enough series of adventures. The performances are great, and the battle of wits between Ollistra and the War Doctor keeps one interested.