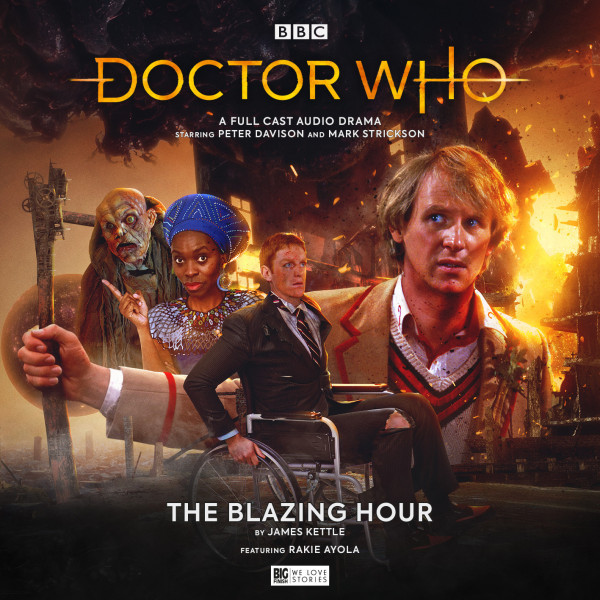 The Blazing Hour is a Doctor Who audio drama from Big Finish Productions. James Kettle is the scriptwriter while Ken Bentley serves as director. Peter Davison returns as the Fifth Doctor with Mark Strickson reprising his role as Turlough. The guest cast is comprised of Rakie Ayola, Lynsey Murrell, Raj Ghatak, and Donna Berlin.
The Doctor and Turlough arrive at a scientific installation on a planet known as Testament. Testament is the site of some experiments that allow for long-distance space travel. The experiments could have very dire consequences for the planet, however the Doctor finds his efforts to save the populace hampered by the greater threats of politics and bureaucracy. The Doctor will be hard pressed to enjoy a complete victory on this one.
Well, this episode has a bit of a slow start for my taste, however it does get better. That's fairly common for these audio dramas and for Doctor Who in general. Turlough is one of the most intriguing of the Doctor's companions since his over developed sense of self-preservation makes him not so trustworthy. Strickson delivers a strong performance here. Davison is also pretty good here. There is a time where the Doctor believes Turlough to be dead, and Davison performs the anguish pretty convincingly. The most interesting guest character is Ayola's Violet Hardaker. Violet is so condescending and shifty that she probably is cut from the same cloth as Turlough may have been at one time. Violet is also not the woman in charge as she first appears. Anyway, the other cast members are fine, but I think Ayola likely had the most fun with her character. I had the most fun following her anyway.
Some of the action sequences are a little hard to follow, which is a common issue with audio plays. The sound effects sound great, which is a very common accomplishment of Big Finish's.
The story itself is pretty interesting. The Doctor and Turlough are separated much of the time, which is a common occurrence in these episodes, but it tends to work and gives the listener a couple of threads to follow. This one is no exception to that. The Doctor and Turlough make an interesting pair when it is just them in the TARDIS. The television viewers did not get much with just these two, but Big Finish has done a decent job of making them compelling.
It took me until the second half of this story to appreciate it properly, but I did end up enjoying it overall.