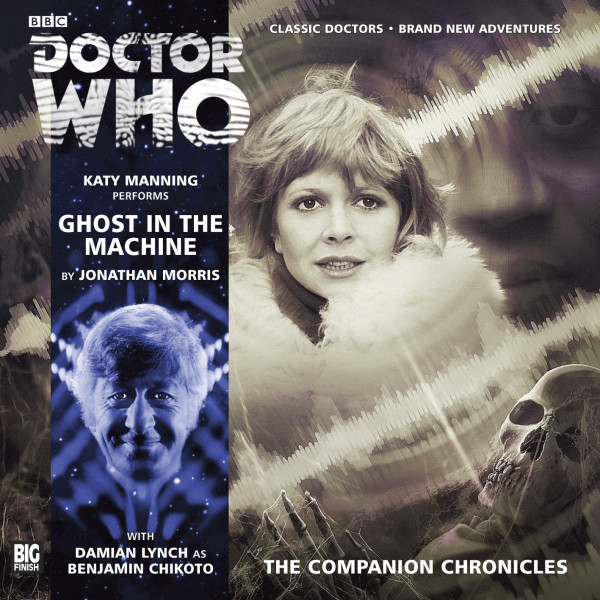 Ghost in the Machine is a Doctor Who audio play from Big Finish and is an episode from the range known as The Companion Chronicles. It takes place during the era of the Third Doctor, who was played by the late Jon Pertwee. Jonathan Morris wrote this script which was brought to life under the direction of Louise Jameson. Jameson is, of course, best known as playing Leela in the television series and has performed in several audio dramas as well. Katy Manning stars in this episode and is joined by Damian Lynch.
Jo Grant steps out of the TARDIS after discovering the Doctor was not on board. She finds a number of skeletons in an abandoned station and then see the Doctor in a rather unusual coma. He has a voice recorder with brief instructions. When she starts giving a vocal chronicle of her discoveries, she senses that she is not alone. When she plays back her recorded voice, she finds phrases on the tape that she did not utter. She also hears the voice of someone who has apparently been long dead, but Benjamin Chicoto's status is a bit more complicated than that.
This one actually sets an effectively creepy tone. Manning really gets to exercise her eclectic vocal talents as well. The explanation for the spooky occurrences is a little confusing at the end since it involves various characters switching bodies and identities. I generally enjoy almost all of Big Finish output, but this episode ended up being one of the better ones in recent memory. It is a fairly creative notion to have a story that explores the notion of how some people dislike hearing their voice on playback. Anyway, if anyone else who encounters this blog is also a Big Finish collector, I would recommend that this story not be overlooked.