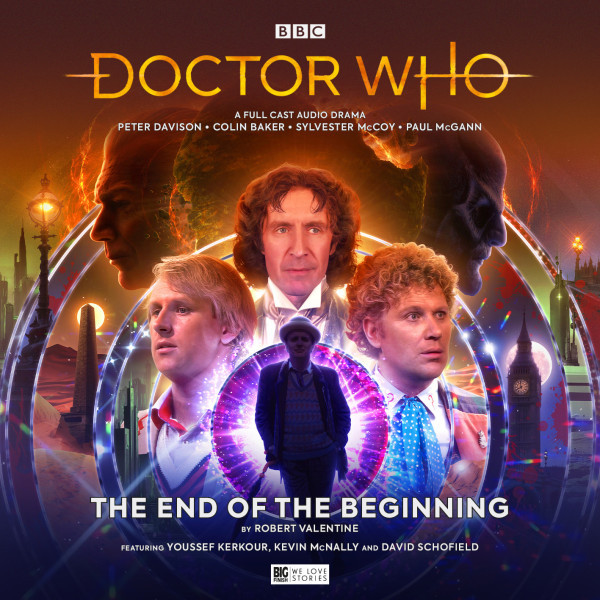 The End of the Beginning is a Doctor Who audio play written by Robert Valentine and released by Big Finish Productions. Peter Davison, Colin Baker, Paul McGann all come together with Sylvester McCoy entering the fray at the climax of this story. Of course, they are all various incarnations of the Doctor coming together for some super big universal threat. Miranda Raison returns as Constance Clarke alongside the Sixth Doctor. India Fisher reprises her role as Charlotte Pollard. Mark Strickson also returns as Turlough alongside Davison. Youssef Kerkour, Kevin McNally, and David Schofield are among the guest cast.
The format hearkens back to the format of the very first audio drama entitled The Sirens of Time. A Doctor will have a brief adventure on his own and then unites with some of his other incarnations in final part of the story. He wins the day and the universe is saved yet again. This time, there is a mysterious figure that turns up in each story, and the Doctor is spirited away where other versions himself awaits.
The multi-Doctor stories are kind of fun but not always well thought out. Although Big Finish tends to do a little better than the television series ever did in these situation, I was a bit underwhelmed by this one. It was still fun to hear the Doctors banter and bicker among himself.
This title is the 275th adventure recorded for what has become known as the Monthly Range. This is also the last one in this range, however all of the Doctors will continue their audio exploits in boxsets and other formats though. The enjoy the monthly releases, but I understand the need to shake up the schedule a bit at times.
Anyway, it wasn't the most spectacular ending to a long-running range of Doctor Who audios, but I am heartened to know there is plenty more to come from Big Finish Productions when it comes to the Doctor.