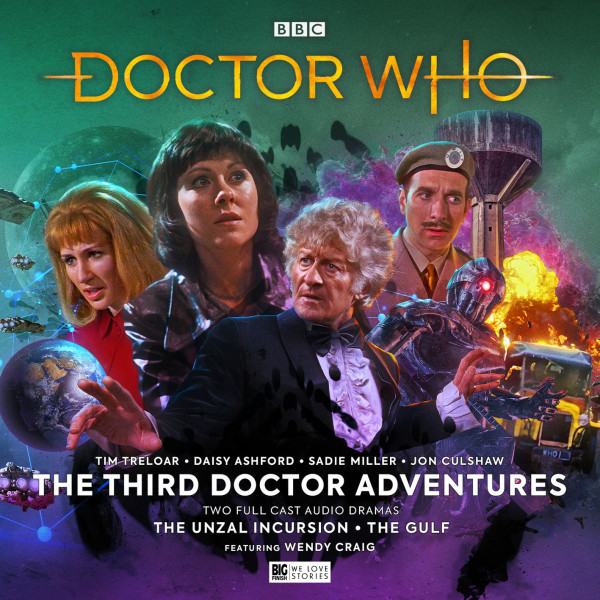 The Third Doctor Adventures Volume 7 contains two audio drama featuring the Third Doctor as played by Tim Treloar, who is filling in for the late Jon Pertwee. This set is directed by Nicholas Briggs. Not only is Treloar taking over the part of someone no longer living, but two actresses who played popular companions are being portrayed by each of their daughters. This set is of course a recent Big Finish release.
The first story is Mark Wright's The Unzal Incursion which has Daisy Ashford playing the role of Liz Shaw, who was first portrayed by her mother Caroline John. Jon Culshaw reprises his interpretation of Brigadier Lethbridge-Stewart, who was played originally by the late Nicholas Courtney. The remaining guest cast is made up of Misha Malcolm, Clare Corbett, Avita Jay, Sam Benjamin, and Gary Martin. Liz Shaw has been a crucial member of an effort to invent an early warning system of extraterrestrial activity known as Hotspur. Members of UNIT have suddenly started behaving oddly and are in the midst of a mutiny, and a new alien threat is very interested in the new project as well. The Doctor, Liz, and the Brigadier have to dodge the efforts of their own team to capture them.
This story is actually pretty good. There was not a very clear description of the Unzal that I can recall, which I found a little frustrating, The cast performed well. Treloar's portrayal of this particular Doctor is good enough to that I can still imagine Pertwee uttering his lines. It's just a solid adventure that is quite reminiscent of this Doctor's early days of his exile.
The second story is one that I prefer a little more. Tim Foley examines the other side of this Doctor's era when Sadie Miller takes on the role originated by her mother, Elisabeth Sladen, with The Gulf. It's all women in this one with a guest cast made up of Wendy Craig, Lucy Goldie, Jennifer Saayeng, Bethan Walker, and Issy Van Randwyck. The Doctor and Sarah arrive on an ocean planet aboard a former rig which now serves as an artists' retreat. One of the small number of artists has disappeared. There is a creature below the waves that feeds on tears of guilt and sorrow, and this plenty of that to go around with this group.
This has one of my favorite types of setting. A claustrophobic isolated base in which there is little chance of escape. The Doctor has not really faced an enemy of this sort, and he is not always sure what to do. Sadie Miller can sometimes sound very much like her mother. Not all of the descriptions were that helpful on how to picture the setting in my mind. It was still quite well-written though with a fairly unique sort of monster.
The set was quite solid overall. The sound effects were convincing enough, and no one in the cast seemed to fall short. Treloar seems to be on solid footing in his portrayal of the Third Doctor. Neither story was bad. Culshaw bringing the Brigadier back to life is quite welcome. This is certainly one of the stronger efforts by Big Finish to capture a specific era of the series. The Gulf was different in some ways though If this were seen on television, the special effects would have to have been updated quite a bit.
This set is one of the better ones in recent years, and his other companions from the Third Doctor finally get to shine a bit through the daughters of the women who portrayed them. This turned out pretty well in spite of challenges of recording it during COVID 19 restrictions in the UK.