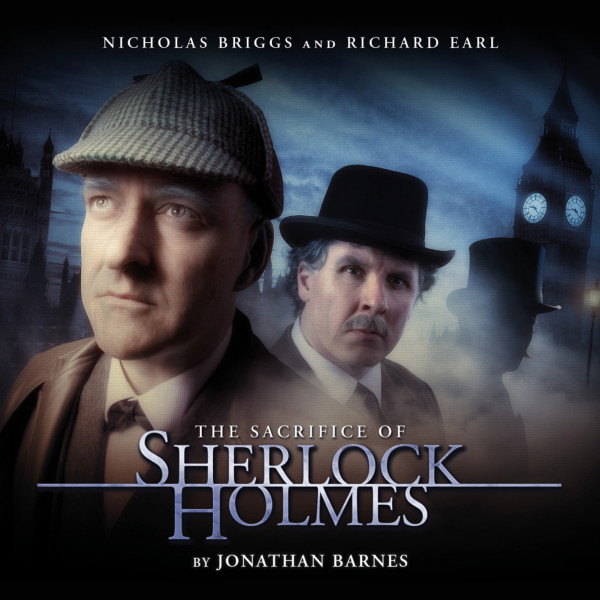 The Sacrifice of Sherlock Holmes is an audio boxset from Big Finish Productions. It has four episodes, all written by Jonathan Barnes. Nicholas Briggs and Richard Earl return to the roles of Sherlock Holmes and Dr. Watson, respectively. The guest cast includes Alan Cox, Tracey Childs, Frances Marshall, Elizabeth Rider, and Natalie Burt.
This series takes the audience to Holmes and Watson in their twilight years of the 1920's. Mycroft Holmes, Sherlock's brother, has died, and the master investigator believes it to be murder. The mysterious group known as the Society is on the move again. London is besieged by mysterious attacks, and Holmes must take up arms once again. Of course, Watson remains on hand to lend a noble hand and face the threats alongside his friend.
The first of the four episodes is The Prophet in the Rain which begins with a séance and a murder. Someone has apparently returned from the dead, and they are very interested in renewing an acquaintance with Holmes. It's a rather intriguing start. but once again it relies on the mystical to thrust Holmes into another adventure.
The Body in the Garret is the second installment here where the attacks on London are escalating. A mysterious foe calling himself Agamemnon has emerged from the chaos. A serum has also been revealed that turns man into beast. The agents of the Society are turning up everywhere to threaten Holmes and Watson.
Which then brings on The Beast in the Darkness where Watson is in the clutches of the Society. Holmes is starting to suspect the true identity of the brutal Agamemnon.
Finally, the answers are revealed in The Shadow in the Water where Holmes, Watson, and their allies confront the mastermind of the Society, including someone long thought dead. They are trapped aboard a large ship in the sea with monsters out for blood.
Once again, it is Richard Earl's portrayal of Watson that really shins here. Briggs's performance of Holmes is not bad. I still prefer many of the predecessors, but I am getting too used to him paired with Earl. The story had a bit too much of the supernatural for my liking in a Sherlock Holmes. I usually like stories that are somewhat supernatural on their own, but having Holmes confront these elements on a regular basis does get a bit wearying. This does leave the series in a rather interesting place. The talent of the actors is undeniable. Briggs does a decent enough portrayal of Holmes, but I am not sure it will be that memorable.
It has some pretty genuine suspenseful moments. Ken Bentley does pretty well as director, but he has been at this for a while now. I enjoyed it well enough, but I am usually biased in favor of Big Finish products. Anyway, it should prove satisfying for Big Finish fans, but overall Holmes enthusiasts likely won't see this as a necessity.