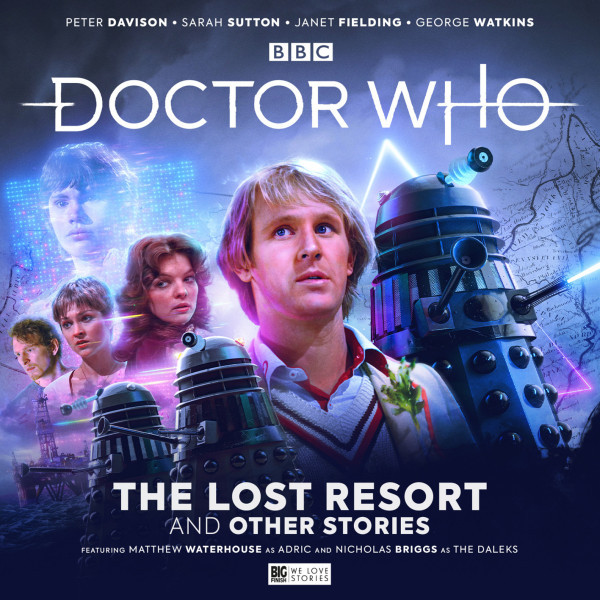 The Lost Resort and Other Stories is a Doctor Who audio boxset released by Big Finish Productions and stars Peter Davison as the Doctor. He is joined in the TARDIS by Janet Fielding, Sarah Sutton, and George Watkins. Scott Handcock and Samuel Clemens share the director's seat. There are three stories in this set. The Doctor, Tegan , and Nyssa are joined by the former Roman slave who has been partially converted in a Cybermen, known as Marc. Marc is of course an original creation of Big Finish.
AK Benedict wrote The Lost Resort, which has the TARDIS crew on a planetoid which contains a sanitarium with unusual temporal activity. The patients are little more than shadows, and a lost friend makes a sudden reappearance. The Doctor finds himself in a situation which will force him to make a heart wrenching choice.
This is a pretty decent story. The Doctor has to make amends with his companions after abandoning them temporarily. It took a bit for me to understand what was going on. The cast seem to take on this story with accustomed enthusiasm. I sort of like this Doctor having to face some emotional consequences of some of his recent antics. Not everyone is as alive as they appear, and that sort of appeals to my sense of the macabre. This is likely the best in the set.
Time for a bit of American history in Sarah Ward's The Perils of Nellie Bly. Nellie Bly was one of a few female journalists in the nineteenth century. She was best known for an exposure of the mistreatment of mental patients at that time and for an effort to beat the record of fictional character Phileas Fogg in his efforts to travel the world. The TARDIS lands on the RMS Oceanic where Nellie Bly is expecting to complete her journey, but a saboteur is nearby. The Doctor and his companions are enmeshed in another situation where they have to preserve the flow of history.
I do appreciate an introduction to a historical figure that seems little known these days. Sydney Feder does well in the title role. This episode seemed a bit bland overall though. The stakes were not all that compelling. The performances are fine, as expected. This just wasn't the most memorable of episodes this time. I could probably find something a bit more to appreciate about it once I replay it, but I'm not holding my breath.
Martin Waites closes this set with Nightmare of the Daleks. Nicholas Briggs is once again shouting into the voice modulator as the Daleks are now invading dreams. This time, not everyone makes it back to the TARDIS.
This was better than the second story, but upon further reflection, Benedict takes the Kanelis Appreciation Award.
Overall, this whole collection is worth getting. Even Nellie Bly has some merit even if it wasn't a personal favorite. Davison doesn't quite sound like he did on the television program forty years ago, but he is still the Fifth Doctor. I wouldn't mind if the writers would tone Tegan down just a little bit. I think I liked her more in the television series than what Big Finish writers do with her at times. That's very unusual since I think most of the other characters benefitted from the attentions of Big Finish. Still, Janet Fielding is an important part of the Fifth Doctor era, and I certainly don't want her to stop participating. Sarah Sutton continues to impress with how little her voice has changed in almost four decades though. She keeps Nyssa very recognizable on audio. I am not sure that the character of Marc was written all that well. It is vey easy to forget that he is from Ancient Rome. His speech seems a little too modern for me to buy into his background. Watkins is the nephew of Peter Davison and is talented enough as an actor, but I am not sure Marc was written all that convincingly.
As mentioned before, I still found plenty to appreciate. Doctor Who is a very flawed, muddled series in a lot of ways, but the overall journey still brings some joy and fires up the imagination. This particular collection certainly continues in that vein.