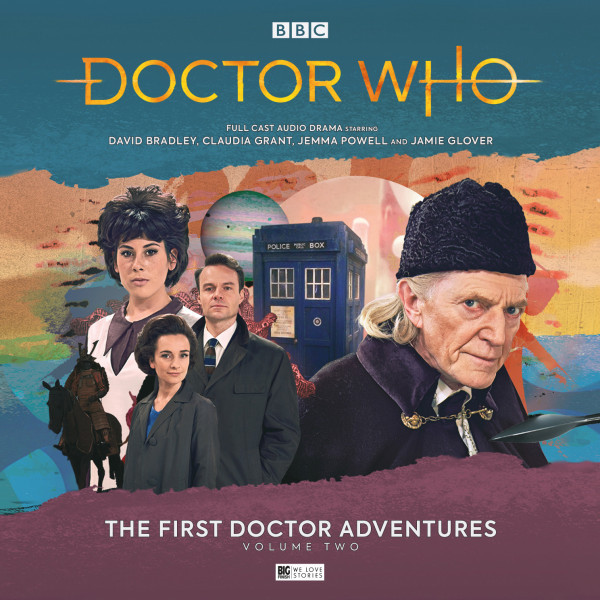 The First Doctor Adventures Volume Two contains two audio adventures from Big Finish Productions and stars David Bradley as the First Doctor, who was of course originated by the late William Hartnell. Bradley is joined by Claudia Grant, Jemma Powell, and Jamie Glover, who take on the roles of Susan, Barbara, and Ian, respectively. This was the cast of the docudrama that aired a few years ago entitled An Adventure In Time And Space. The set was directed by Big Finish stalwart Nicholas Briggs. Fans of the early years of Doctor Who are getting new stories with a new cast that resurrects the style of the early years of the series.
John Dorney starts this set off with The Invention of Death, which has Tracy Wiles and Michelle Morris making up the guest cast. The Doctor and his friends find a civilization that has no death. Not long after their arrival, one of the Ashtallahan citizens suddenly dies rather mysteriously. This story explores the notion of how death can be a motivator for societies to procreate and to create. Dorney creates a society with an androgynous species and who may be the most innocent of people ever encountered by the Doctor and his friends. Although it was unintentional, the TARDIS crew has apparently brought a corruption to this pleasant environment.
This took me a little while to find interesting, but that's not unusual for the recreation of this particular era. David Bradley still manages to capture the spirt of Hartnell's performance without an outright impersonation. Although there is an evil that must be confronted, there seems to not be an outright villain, which makes for a more interesting story. I don't want to suggest that we make more stories without an evil mastermind lurking in the shadows, but I enjoy the complexity of not having one of these characters at times. That does tend lead to more scenes of philosophizing that could bog down the action. Dorney seems to navigate this well enough though. The post production is, of course, quite convincing. I rather enjoyed this story.
Unfortunately, I was a little less enthralled with Andrew Smith's The Barbarians and the Samurai, which takes place in 19th century Japan, during the time when that nation was much more isolated from the rest of the globe. It actually is a rather interesting historical time, and I should perhaps read up more on Japan's decision to be more secluded during that time. This one has a much larger guest cast that includes Dan Li, Andrew Wincott, Susan Hingley, and Christopher Naylor. The casting director has managed to find some Japanese actors for this, which does lend some authenticity to the play. I know most of the names I mentioned are English, but there the Japanese were actually represented quite nicely here. Well, I guess I can go ahead and mention Sadao Ueda and Jozef Aoki who do round out the guest cast. I am not usually too particular about who plays what on audio, but I do appreciate Big Finish's efforts to match a performer's ethnicity to the role when it matters. Since the story does take place in Japan, I rather think that matters here. From what I understand, the Japanese actors did give Smith credit for the historical accuracy.
Unfortunately, in spite of the of the intrigue of samurais and so forth, I had some trouble appreciating the pace of this story overall. It may just require another listen with closer attention, but there were just a few too many moments that dragged for me. The post production work was great, but I was not all that clear on what was going on during some of the action sequences, which is a common problem on audio plays of this sort. The cast performed well, as expected with Big Finish. Smith is a long-time writer for Doctor Who, going all the way back to the classic television series, but I felt this was a bit of a misfire for him. Like any writer, Smith deserves the opportunity to stretch and try new things in the series. He is not without some interesting ideas, and I have found plenty to admire in this contribution to the series overall. This particular story just didn't hit the mark for me, but I still look forward to his continued participation in Big Finish.
I had a somewhat mixed reaction to this set overall, but I am getting used to Bradley's interpretation of this Doctor. Even if I sometimes was a little exasperated with the Hartnell era, I am very glad that it is still being represented in some way with Big Finish. Hartnell's performance still started the whole journey, and his Doctor is one for which I have developed an affection in spite of the fluffed lines and odd chuckling.