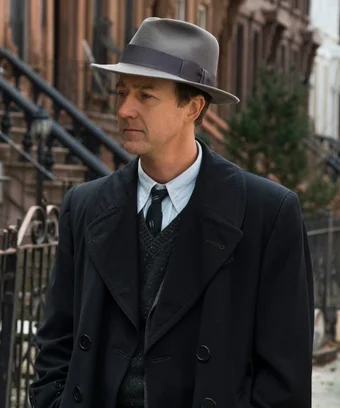 "Motherless Brooklyn" is a crime film reminiscent of the old private eye flicks that starred the likes of Humphrey Bogart and Robert Mitchum several decades ago.  Edward Norton not only stars in this as Lionel Essrog, the private eye with the rather distracting affliction known as Tourette syndrome, he also is the screenwriter and director.  This has been a passion project for the talented and compelling Norton for about twenty decades.  The film is based on a novel written by Jonathan Lethem.  Alex Baldwin, Bruce Willis, and Willem Dafoe are included in the cast.  The love interest for the awkward, hapless Lionel is played by an English actress named Gugu Mbatha-Raw.
Lionel is part of a team of investigators who work for a gumshoe named Frank Minna,  played by Willis,  Minna is murdered, and Lionel's loyalty and obsessive nature doesn't allow him to not balance the books on that.  He finds that Minna was working on something that led from the streets of Harlem to ivory towers of New York City's considerable political power players.  Of course, the story is adapted to the 1950's, so there are plenty of fedoras and trench coats.  The calmer side of Lionel's troubled brain is able to help out with fairly interesting narration.
There is some exploration of racial and class unrest at the center of the mystery surrounding the death of Lionel's mentor.
So, the movie is pretty good, but it isn't without some missteps.  Norton is pretty compelling as the Tourette ridden private eye, but even his efforts doesn't keep me from noticing that the film drags a little and gets a little too convoluted in its storytelling. Baldwin also is a pretty commanding force as a menacing city commissioner with more than his share of secrets.
I couldn't really find fault with anyone's performance, so that was helpful during some of the lulls in the plot.  The movie is longer than most, and it shows at times, however Lionel turns out to be quite a likable underdog even if the random outbursts and twitches takes some mental adjustment to watch.
I confess that I have a weakness for this genre of film, and I admire Norton's talent in general as well, so it is fairly easy  for me to still enjoy this particular piece.  Even if "Motherless Brooklyn" doesn't quite hit the mark as being a masterpiece, it ended up still being very much worth the time.