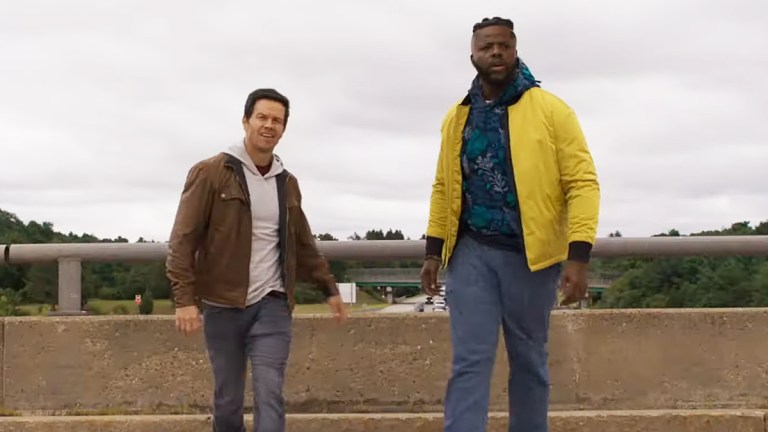 Spenser Confidential is a Netflix original film supposedly based the characters originally created Robert B. Parker and a novel written by Ace Atkins.  Atkins has been writing new Spenser novels since Parker's death in 2010.  The film is directed by Peter Berg, who I usually like.  It took two screenwriters to come up with his drivel, Sean O'Keefe and Brian Helgeland.  Mark Wahlberg plays the title role with Winston Duke playing Hawk.  Alan Arkin and Iliza Shlesinger are also part of the cast alongside Bokeem Woodbine and Michael Gaston.
It's based on one of Ace Atkins' novels entitled Wonderland supposedly.  I read that book and recognized very little of it in the movie. I can't believe that Atkins and Parker estate went along with this without any objection.
First of all, the background of the characters has been changed drastically.  In this film, Spenser is a former cop who got sent to prison for giving his corrupt captain a thrashing.  He serves his time and is released.  He wants to move to Arizona and become a long haul trucker, however he gets drawn back into the fray when the captain is murdered and another cop is framed for it.  Arkin plays Spenser's former boxing trainer who puts him up for the time being.  This is where Spenser meets Hawk, an aspiring UFC fighter or something.  Spenser is also having to contend with an irate ex-girlfriend, who is definitely not Dr. Susan Silverman of the novels.  Shlesinger takes on that role and sometimes stumbles into an amusing moment.  Her gorgeousness and talent is so wasted here, although there was a certain sassiness I found somewhat appealing.  She is better known as a stand-up comedian, which I appreciate a lot more.
In the novels, Spenser was just private eye who was often backed up by Hawk, a freelance mob enforcer at times.  He was known for his wry view on life and justified bravado when taking on a challenging case.  He was a pretty accomplished cook and well-read which was in contradiction to his intimidating size and somewhat thuggish features.  The only thing this movie got right was Spenser being a former cop and boxer. Wahlberg is an actor I usually appreciate when he is onscreen, but he just didn't hit anything on how Spenser is depicted in the novels.
If this thing didn't purport to be based on the world created by Robert B. Parker, it may be an adequate film to watch, but still not  much more than that.  Although Alan Arkin had a few good moments sometimes.
I knew about some of the changes before I saw this movie as I knew that Hollywood studios tended to do this, but as a fan of the original Spenser novels, I was still pretty outraged that this went as far as it did. What a shame!