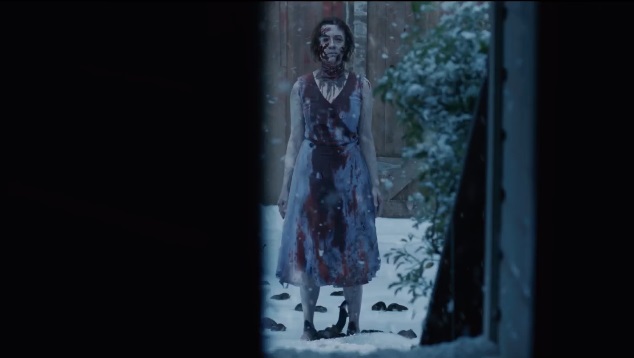 1922 is a film based on a novella written by Stephen King.  The screenplay was written and directed by Zak Hilditch.  Thomas Jane leads a cast that includes Molly Parker, Dylan Schmid, and Neal McDonough.
Thomas Jane plays a farmer in an unhappy marriage and near financial ruin.  His wife inherits some property, which he wants to have sold.  When she refuses, Wilfred James concocts a plan to kill her and enlists the aid of their son.  After the deed is done, there are rats, discord, and rebellion.  It's a Stephen King tale, so Wilfred isn't going to escape the consequences all that easily.
This is one of the better adaptations I have seen recently.  Jane serves as a narrator as the main plot is framed by Wilfred sitting alone in a room writing out his confession.  He also manages a pretty convincing working man's Midwestern dialect and does carry the bulk of the movie quite effectively.
Although there is not much suspense in what Wilfred has done, it is interesting to see how the consequences unfold.  I have said for years that few can depict madness as convincingly as Stephen King.  The director seems to make good use of its time. Although there are some slow moments, I didn't find myself minding it that much.
This is a pretty good film.  Most of the decisions on how it plays out does work quite well.  The cast was well chosen.  I have always considered Thomas Jane to be a competent actor, but he handled this role better than usual.  There were no extraordinary visual effects, but this film didn't need all of that.  There were some interesting twists as to how the characters fared by the end of the tale. I think most King devotees will appreciate this adaptations.  I am not a King devotee, but I have read quite a bit of his works and seen several of the films created from his pages.  I have read and seen enough to recommend this one to those of us willing to explore the macabre side of literary and cinematic arts.