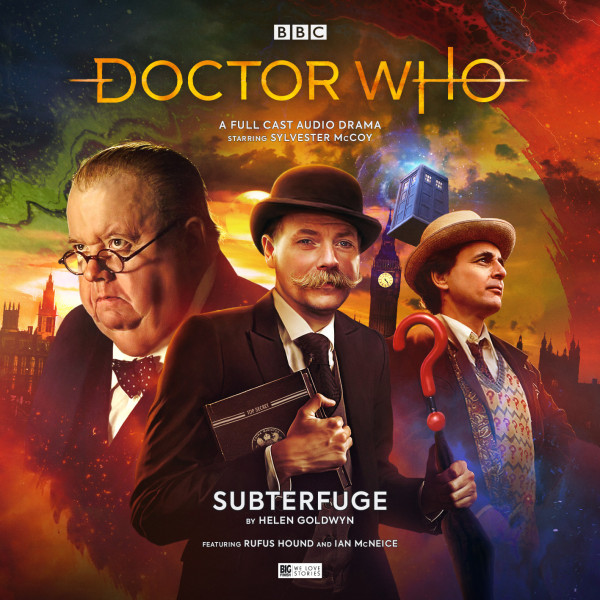 Subterfuge is a Doctor Who audio play released by Big Finish Productions.  Samuel Clemens is the director of this story which was written by Helen Goldwyn.  Sylvester McCoy leads the tale as the Seventh Doctor.  Ian McNeice reprises his role as Winston Churchill, which he has played in the revived television series as well as other Big Finish releases.  Rufus Hound returns with his version of fellow renegade Time Lord known as the Meddling Monk. The guest cast is also comprised of Brian Capron, Mimi Ndiweni, Philip Labey, Jonathan Forbes, and James Joyce.
In London 1945, Winston Churchill is seeking reelection as Prime Minister of Britain. A new strategic advisor assures him of victory, but that's not the way history went at that time, and the Doctor knows he must intervene to make sure it all stays on course.  There is another alien presence that needs to be returned home.
It's a pretty enjoyable episode, but there is a lot going on and visualizing it all in the mind's eye is not the easiest tasks when listening to this one.  I enjoyed the verbal sparring between the Monk and the Doctor.  Rufus Hound is a pretty good casting choice.  The Meddling Monk is a character who dates back to the era of William Hartnell's Doctor.
I don't consider this to be a brilliant entry, but it's a solid adventure.  I am starting to think that this era in world and British history does get a bit overdone in Doctor Who, but I typically enjoy McNeice's take on Churchill, and that helps me to not get terribly put out.  Also, I have come to enjoy McCoy's performance over the years with Big Finish, so he has become a reliably welcome presence.
Goldwyn is a pretty talented writer.  She has actually performed and directed some of these audio adventures over the years. I don't recall any previous scripts actually being written by her, but I do look forward to either being reminded of earlier works or seeing if what she comes up with in future stories.