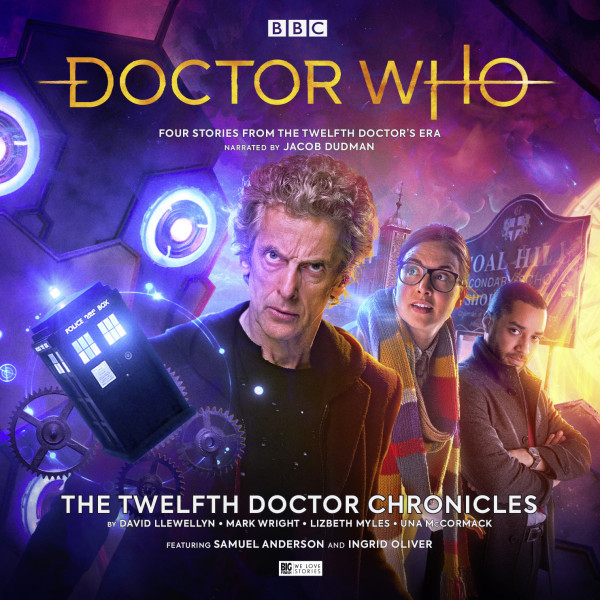 The Twelfth Doctor Chronicles is a Doctor Who audio anthology released by Big Finish Productions.  Jacob Dudman returns to the mic serving as narrator for four new stories and doing his best to reproduce the voice of Peter Capaldi.  Helen Goldwyn is the director for this latest collection.  Each story also has a guest actor to help out.
The set starts off with David Llewellyn's The Charge of the Night Brigade. Mandi Symonds is featured in this one as Mary Seacole, who had some renown as a nurse serving behind battle lines during the Crimean War.  I guess she had similar notoriety as Florence Nightingale.  On top of the horrors of war, an alien infection is also complicating matters even further, and that's where the Doctor steps on.  It's an interesting piece of British history, and Symonds was a good addition to the story.  I did not find it to be a spectacular addition, however it did not strike me as something I would find that memorable.
War Wounds is the second story and is written by Mark Wright.  Samuel Anderson reprises his role of Danny Pink from the television series.  He was the boyfriend of companion Clara Oswald who ended up on the wrong end of a Cyber conversion.  Danny joins the Doctor in the TARDIS as they are taken to a war on a distant planet.  Danny and the Doctor have some pretty amusing moments as they argue their way through this adventure, however there isn't much here that grabbed my attention and kept it either.  Once again, this is one that is not terribly written, but the only thing that warranted any special note was Danny Pink's presence.  I was never one that found that character too compelling in the television series, but at least he was someone I recognized.
Distant Voices by Lizbeth Myles had a much more interesting premise.  Emily Redpath is the guest performer and is quite good.  Redpath plays a tour guide who is haunted by voices of the past, however it's no ghost that is the culprit. The Doctor has found a serious wound in Time, and a young tour guide who seems to be at the center.  This one was pretty good, or at least more striking than the other stories in this set.  There have been other similar ideas in the series, however this one still resonated better than at least for the first two entries.
Finally, Field Trip by Una McCormack concludes this set with Ingrid Oliver returning as the Doctor's most ardent admirer, Osgood.  Osgood finally gets a trip in the TARDIS where the Doctor enlists her assistance to stop an invasion.  First, they much stop by an intergalactic peace conference where matters take a much  more dangerous turn.  I actually liked Osgood from the television series, so it was a welcome return for her, in my opinion.
Dudman's impersonation of Capaldi doesn't quite come off as accurately as when he imitated David Tennant and Matt Smith in the previous Chronicles.  Fortunately, he is not so far off the mark that it distracted me from finding some enjoyment here.  Dudman is actually a pretty compelling narrator though, so that helped me forgive any lapses in his rendition of this version of the Doctor.  The sound effects were effectively realized, but that's hardly news with Big Finish output.  None of the stories were really bad, but three out of the four just didn't keep my attention all that well.  Big Finish is still the master of this manner of storytelling, and my being somewhat underwhelmed by this particular set does nothing to change my appreciation for the studio itself.