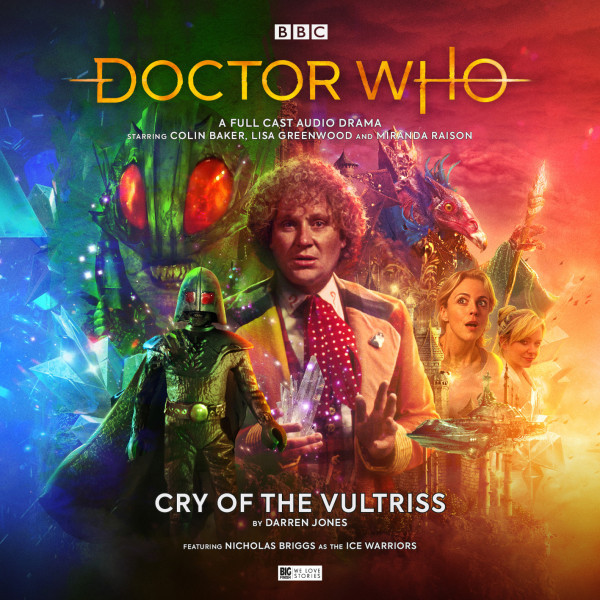 Cry of the Vultriss is a Doctor Who audio play from Big Finish Productions and is written by Darren Jones.  John Ainsworth is the director of this episode which stars Colin Baker alongside Miranda Raison and Lisa Greenwood.  Nicholas Briggs returns as the voice of the Ice Warriors as well.  Natasha Cowley. Adele Lynch, and Caroline Lawrie are part of the talented guest cast as well.
The Sixth Doctor is once again accompanied by Constance Clarke and Flip Jackson or Ramon, since she does have a wedding to which to return.  The TARDIS is forced out of the space/time vortex and crashes to a planet ruled by bird-like inhabitants known as the Vultriss.  The Vultriss have recently had a coronation and the new queen is set to welcome a diplomatic team comprised of the Ice Warriors, a race the Doctor has not always been able to trust.
There are some interesting aspects to this story.  The main villain is a female Ice Warrior played by Adele Lynch.   For some reasons, no voice modulation was used on the cast members playing the Vultriss characters.  I sort of found the effort to imagine these bird-like creatures sounding completely human to be a little off-putting.
Overall, I did find this episode to be well done even if I have some misgivings about not making the voices of the Vultriss more distinctive.  This particular TARDIS team makes a welcome turn.  The two women traveling with the Doctor are Big Finish original creations.  Constance Clarke was a WREN serving at Bletchley Park during the Second World War while Flip is a twenty-first century Londoner with an overdeveloped taste for adventure.  The relationship between Mrs. Clarke and Flip works very well with this particular Doctor.  Colin Baker continues to display an impressive energy now that he has been able to perform much better material than he had gotten on the television series over thirty years ago.  He has now been playing the role for Big Finish since 1999.
All of the basics were covered well.  The sound effects were convincing.  The performances were solid.  The business with the Vultriss sounding completely human is a minor issue, but I would still say that Darren Jones delivered with a gratifyingly intriguing story.  Of course, having this particular TARDIS crew is always going to help.