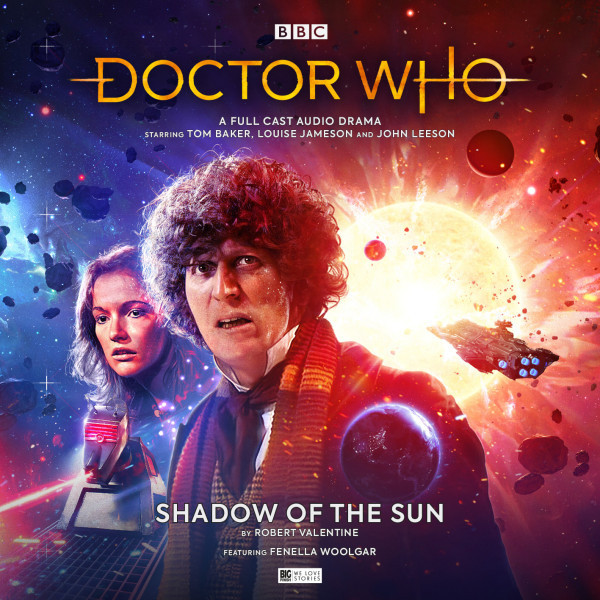 Shadow of the Sun is a Doctor Who audio play written by Robert Valentine and directed by Nicholas Briggs.  Tom Baker returns as the Fourth Doctor as is joined by Louise Jameson as Leela and John Leeson voicing K9.  The guest cast is comprised of Paul Herberg, Fenella Woolgar, Glen McCready, and Barnaby Edwards.
Big Finish Productions has moved this story ahead of schedule by a few years since it was recorded while at height of the lockdown in the United Kingdom due to the coronavirus pandemic.  The cast was able to perform from their various residences with the sound techs putting it all together for a pretty satisfying story.
The TARDIS materializes aboard a star-liner in the middle of a party.  The Doctor, Leela, and K9 find that equipment has been breaking down and guests have been disappearing.  The Doctor makes a more alarming discovery in that the ship is on a direct course to collide with a sun.  He is even more alarmed when no one else seems to share his concern.
The story sort of explores the notion of cults and dangerous beliefs that could lead to some self-destructive tendencies.  Not much is more self-destructive than deliberately heading into a sun.  There is also a problematic autopilot that does not want to cooperate.
Overall, the episode is satisfying but not much new ground is broken here.  The post production work is top-notch as always though.  The sound effects were convincing, which is also expected.  The performances were all solid.  Tom Baker still sounds great for a man of his age, which is 86 now, in case anyone didn't know.  Sometimes, I can hear it in his voice, but not enough to dampen my enthusiasm whenever a new Fourth Doctor adventure is on the horizon.
This is still quite a triumph for Big Finish regardless in that it is a testament to their determined ingenuity to provide new entertainment during the most difficult of times.  The story itself may not be a standout, but it's quite good.  All of the cast seemed competent and enthusiastic in the effort put forth.  Because Big Finish did manage to find a way around some serious roadblocks brought on by the Bug,  this still is a very special episode and worthy of more than one listen.