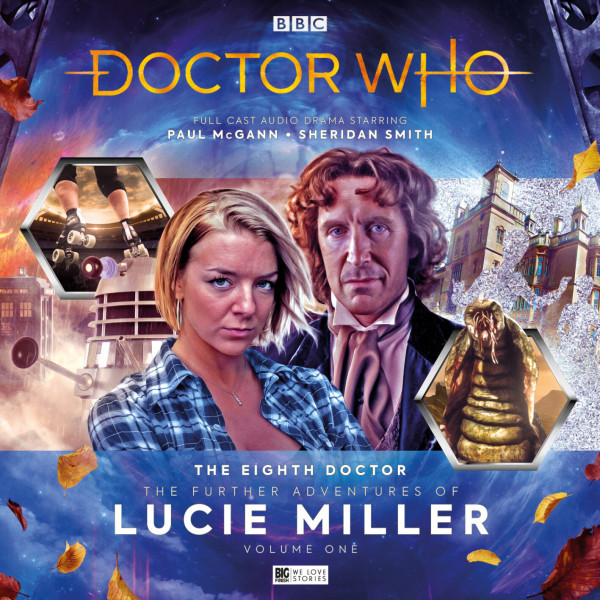 The Further Adventures of Lucie Miller Volume One is a Doctor Who audio anthology from Big Finish Productions in there are four new stories reuniting Paul McGann and Sheridan Smith as the Eighth Doctor and Lucie Miller, respectively. Nicholas Briggs has directed this set. There is a bit of an arc, but the stories mostly appear to be standalone. Lucie Smith joined the Doctor through Big Finish over a decade ago. She met a tragic end some time ago, but the Big Finish writers and producers made the decision to reveal some adventures that had yet to be heard. Basically, they all missed with Sheridan and decided to bring her back to the fold, and I don't mind that one bit. So how do these stories hold up? Well, let's get into that, shall we?
The man himself, Nicholas Briggs, kicks off the set with The Dalek Trap. He also voices the Daleks, so he is a busy fellow in this one. Matt Lloyd Davies and Amanda Hurwitz join in as the guest cast. The Doctor and Lucie have collided with a black hole where they find an amnesiac couple and Daleks. The Daleks may not be the perpetrators of this disaster, but the Doctor finds himself having to make a hard choice to save everyone. This is a good start. The cast is interesting, and Sheridan and McGann have no trouble reigniting their chemistry. Briggs is consistently an interesting writer. It was a fun story to start off with even with the sometimes overly familiar Daleks.
Alice Cavender is next up with the The Revolution Game. The guest cast is comprised of Jonathan Keeble, Madeline Duggan, Tom Alexander, and Alicia Ambrose-Bayly. The Doctor's plan to give Lucie a surprise destination for her birthday backfires a bit when they find a human colony in the group of a mega corporation where the game to watch is roller derby. This is a pretty humorous addition, but any story with Lucie Miller is going to not be short of that. There is nothing too extraordinary about this entry, but it's solidly entertaining. Once again, the performances make this a worthwhile distraction.
The House on the Edge of Chaos by Eddie Robson is probably my favorite in this set because of the claustrophobic setting and the tinge of horror. Carla Mandonca, Rupert Vansittart, Emily Woodward, Joe Jameson, and Alicia Ambrose-Bayly lend their voices in this one. The Doctor and Lucie are trapped in a house where creatures made of static are breaching the walls. There is a mysterious death in the past at the heart of this story. The guest characters are pretty compelling. I am probably a bit biased since I love a good haunted house yarn.
And the story with a thread through it all is Island of the Fendahl by Alan Barnes. The Doctor finds an opponent he had thought was destroyed long ago has been manipulating his journeys with Lucie. Carlyss Peer, Atilla Akinci, Paul Panting, Lauren Cornelius, and Bethan Dixon Bate make up the guest cast in the final story of this collection. This brought on a surprising enough twist that pays off nicely for this listener.
Although my enjoyment of each story was not equal, I am pleased to find that I had no real disappointment in any of them. The idea of bringing in Sheridan Smith again stoked up the proper nostalgia as I remember first hearing her. Smith has forgotten none of the sass and spirit of Lucie Miller. Of course, Paul McGann has lost none of his energy in his performance either. There is a bit of a shadow over the enjoyment because I already know how Lucie's travels in the TARDIS come to an end, but it's a very small shadow.