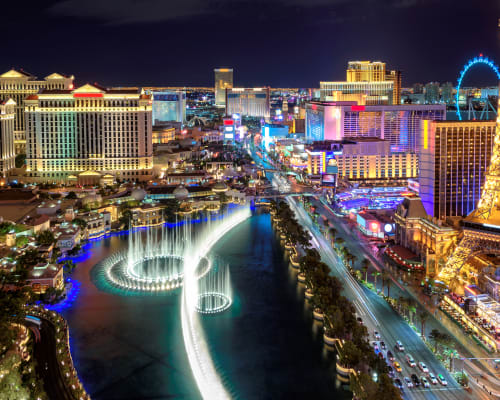 I have just returned from my first excursion to Las Vegas, Nevada since this COVID 19 business has started. I have been there several times over the past twenty years or something along those lines, so I know the town quite a bit. I am not sure I would want to live there mainly because of the unbearable, oppressive heat during the Summer months, but I love going there. I love the choices of entertainment, the variety of eateries, and the general vibe.
I often tell people who tell me they have never been to Las Vegas that yes, it does earn the moniker of Sin City in a thousand different ways, but there is plenty to do where one can enjoy the many of the offerings and still be able to live with themselves. Las Vegas is one of the most unique cities in the United States, if not the world. Of course, there are many cities that could likely legitimately make that claim.
This past weekend, I saw a Las Vegas which made me think of someone with a bad limp. The restaurants were open, and people were able to risk their fortunes in the casinos well enough. Everyone was in masks and some effort was made to encourage the recommended social distance. I have learned that lounges and bars are going to be allowed to do business again this coming week.
I found that knowing about the dark theaters and lack of live shows still dampened my enthusiasm. I was there to visit an old friend, which did happen, and certainly made the trip itself more than worthwhile. It is still Las Vegas, so I found quite a few treats anyway. The Mob Museum is still a favorite diversion after my friend had introduced me to that little gem a few years ago. I still recommend to my friends here in Amarillo to check that out whenever I hear about them planning a trip out that way.
I was then brought to the National Atomic Testing Museum, while it may not spark the same interest in me as the cops and robbers exhibits, was certainly worth the time. It's a chronicle of the nuclear testing done in Nevada from 1951. It apparently is affiliated with the Smithsonian Institute. I will likely be mentioning that to friends who are seeking an escape to Sin City and appreciate a new piece of American history.
So in spite of the restrictions imposed because of COVID 19 pandemic, Las Vegas has some less obvious treasures to discover. Although I am still very pleased to have taken the most recent trip, I am anxious for a return there after a time that all of the amenities and diversions are available. I will not attend or participate in all that is offered since I need to practice some kind of restraint, but I will be glad when the theatres, concert venues, and buffets are in use again.
Hopefully, Las Vegas will recover along with the rest of the country as we try to get a handle on this bug. And it will not be too much longer before I can return and recognize the vibe from the days before COVID 19.