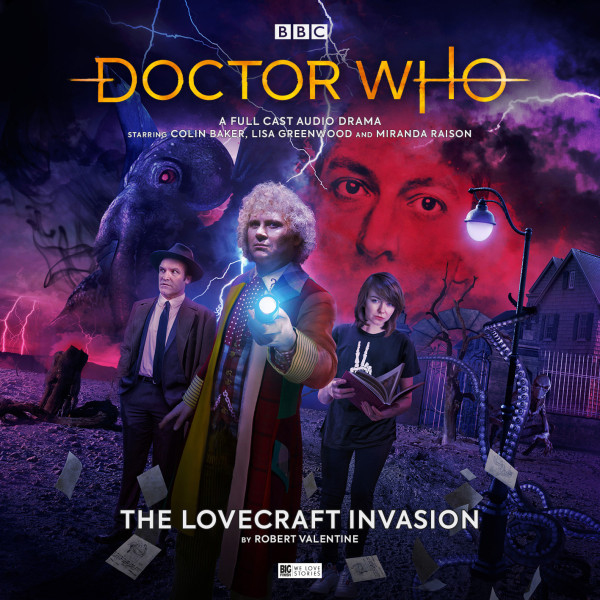 The Lovecraft Invasion is a Doctor Who audio play released from Big Finish Productions and is written by Robert Valentine. Scott Handcock directs this episode which stars Colin Baker alongside Miranda Raison and Lisa Greenwood. The guest cast is comprised of Robyn Holdaway, Alan Marriott, David Menkin, and Jonathan Andrew Hume.
A curiously overlooked encounter in Doctor Who has finally occurred when the Time Lord finally meets Howard Phillips Lovecraft. The TARDIS crew is joined by a bounty hunter from the 51st century chasing down a mind parasite known as the Somnifax which is able to bring a host's darker imaginings to reality. And someone with the darkest of imaginations is HP Lovecraft. Holdaway plays the bounty hunter known as Calypso Jonze who lends a hand. The Doctor and Flip Ramone have to enter the mind of Lovecraft, played by Alan Marriot, and face the horrible creations such as the Cthulhu. The story also deals with Lovecraft's known racism and xenophobia and yet manages to make him a bit more complicated than his more unkind views. While Flip and the Doctor are trapped in Lovecraft's imagination, Constance Clarke and Jonze deal with the physical presence of the legendary master of horror fiction.
There are some interesting elements explored that were new to me about Lovecraft, but I was never an expert on the man or his writings. Anyway, the cast as usual was well selected. The script was pretty good but does not really stand out as anything all that remarkable. Once again, the performances are well executed. Flip and Constance Clarke still continue to provide excellent foils to the more bombastic of the Doctor's incarnations, although Big Finish still makes this iteration of the Time Lord much more likeable than he often appeared in the television series. There was a real attempt, which was quite successful, to make Lovecraft more realistically complicated in spite of his bigotry of the times. Remember, this story is set in Rhode Island 1937, a time where such views were more accepted.
This release is competently written, but it sort of feels like Valentine is checking off a box by having the Doctor meet a literary figure he had yet to meet. The sound effects are as usual well presented, although the voice modulation for the creature voices really sound overly familiar. I guess there isn't much diversity on how nightmarish creatures actually sound. It's an enjoyable enough Doctor Who audio experience with some flaws that are not all that hard to forgive.