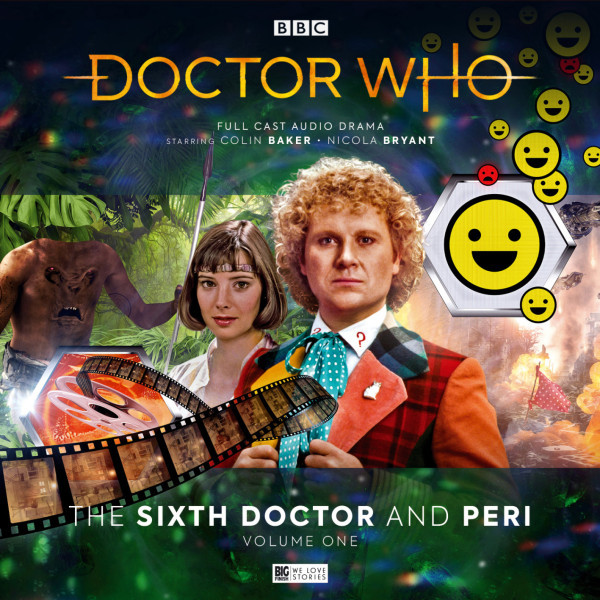 The Sixth Doctor and Peri: Volume One is a Doctor Who audio boxset from Big Finish Productions and stars Colin Baker and Nicola Bryant, The title is pretty self-explanatory. This a collection of four new adventures with Doctor in his sixth incarnation and of course, Perpugilliam Brown, known as Peri. The set was directed by Scott Handcock. Guest actors include Hugh Skinner, Rachel Atkins, Sarah Douglas, David Sibley, and all kinds of other performers you can enjoy if you buy this collection. Needless to say, a lot went into this.
And so this set begins with The Headless Ones by James Parsons and Andrew Stirling-Brown in which the TARDIS brings the Doctor and Peri to nineteenth century Africa where a British expedition is searching for a legendary tribe known as the Headless Ones. It turns out to be a pretty good start. Not much new in the Doctor popping in an some expedition, but it turned out to be a fun adventure. It probably isn't one of the more memorable ones though, which seems to be case in most of episodes with more than one writer. Anyway, it's a good enough start with Colin Baker and Nicola Bryant finding their banter and chemistry with ease.
Like is the second episode and is written by Jacqueline Raynor, who has a lot of Doctor Who contributions under her belt. The Doctor and Peri comes across an Earth colony world where popularity is essential to continued survival. This episode could be described as rather quirky. It takes on the obsession of wanting to be noticed, and considering the Doctor's multi-colored wardrobe, he has little problem with catching the eye. It's a pretty interesting episode with some effective humor mixed into the message. Once again, Colin Baker gets to ham things a bit, but that seems to work with this particular story. It's one of those episodes where the humor does blend in with the sinister here. Basically, Raynor doesn't disappoint with her contribution.
Probably my favorite out of this collection is Stuart Manning's The Vanity Trap. Hollywood film legend Myrna Kendal has a story to tell about an uncompleted picture and her meeting the Doctor and his companion. The desire to avoid the ravages of Time is at the heart of this. It's kind of a complicated tale in that there is time distortion and characters misplaced in time. It's not that easy to follow on audio, but somehow I managed to enjoy it a little more than the other stories. It probably just appeals to my taste for the retro. Anyway, I wasn't completely thrown and I got the gist of it toward the end, but I could probably stand to pay a little closer attention the next time I fire this one up.
Finally, Nev Fountain wraps up this set with Conflict Theory. The Doctor and Peri are apparently not on the same page in their travels these days and need a little help. Dr. Sigmund Freud is no longer alive, but his wisdom lives on in a colony of robots fashioned after him. A little psychoanalysis gets interrupted by another invasion. This may be my second favorite because there is kind of a neat twist, but the story also examines the Doctor's relationships and motivations when it comes to his companions. Some of the very early companions are referenced here, which I appreciated. It kind of opens up some new avenues of thought for the fans when it comes to reflecting on the Doctor's pattern of associations. This story went a little deeper than what was done on the television series during the Sixth Doctor's era, and I almost always appreciate that.
Colin Baker and Nicola Bryant themselves make this whole collection a treat. As much as I enjoy the original companions provided by Big Finish, it's fun to revisit this Doctor and his relationship with Peri. Big Finish has also done a great job of evolving Peri beyond what was seen onscreen. Although the Doctor and Peri can still bicker with the best of them, there is now more affection displayed in the audio plays. Even if a couple of the stories were not as notable here, I still enjoyed the whole collection and hope that a second volume is to come quite soon.