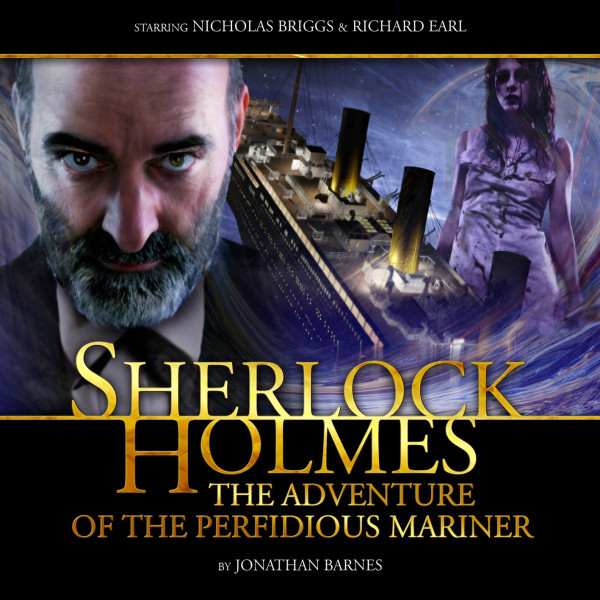 The Adventure of the Perfidious Mariner is a Sherlock Holmes audio drama from Big Finish Productions and is written by Jonathan Barnes. Nicholas Briggs returns to play the now retired consulting detective and shares directing duties with Martin Montague. Richard Earl reprises his role as the universally recognized sidekick and chronicler, Dr. John Watson. The guest cast is small but mighty, being comprised of Michael Maloney, Tracey Childs, and Toby Longworth.
The story takes place in 1912 not long after the sinking of the RMS Titanic, and Dr. Watson decides to look in on his old friend, Sherlock Holmes, who has retired from his criminal investigation practice in London and is now studying bees. That all fits into the canon of Arthur Conan Doyle. The surprising development is that Dr. Watson's wife was lost aboard the Titanic, and his relationship with Holmes is rather strained. It seems that Holmes retired suddenly from his practice due to some mistake that was never revealed on this episode. Watson is followed by J. Bruce Ismay, who had taken a lot of criticism for surviving the Titanic disaster when he was involved in the construction of the ship as managing director of White Star Line. Ismay is rather panicked after being followed by a ghostly woman and people who have shown any sort of compassion for his plight dying mysteriously. By the way, Ismay was actually a real guy so this is a story which blends the fictional works of Conan Doyle with a profound historical incident.
This is a fairly interesting episode. I am getting more used to Briggs' interpretation of Holmes, but the scene stealer is Richard Earl as Watson. The dialogue seems well suited for the era this is supposed to represent. Barnes shows some cleverness in leaving a couple of avenues open for Holmes to continue some investigation beyond this case. Briggs and Earl seem to have settled in quite nicely into their roles. It was quite interesting to see Watson not quite enamored with Holmes' talents as usual. These two men had a serious rift when this whole thing begins. Earl does a great job of presenting the hurt Watson must have felt when he did not hear from Holmes after Mr. Watson's tragic demise. There is not quite as much narration as there usually is in this series, and I found myself kind of missing that. Earl has such a great voice and manner of performing the narration that I was kind waiting for it. I know many listeners find narration a bit off-putting, but I got rather used to Earl's style.
I like Nicholas Briggs because he is always so open about his passion for Doctor Who and Sherlock Holmes during the cast interviews contained in these releases. He also isn't bad as an actor. I would call his version of Holmes more competent and pretty faithful to how Doyle seemed to have described him. Sometimes, the more acerbic moods seem to be a little forced. I don't know if I would ever consider his interpretation a favorite, but Briggs really doesn't ruin it for me with his performance, and that will work.
This particular episode doesn't quite make the standout mark in my mind, but it's enjoyable enough for me to not regret purchasing it.