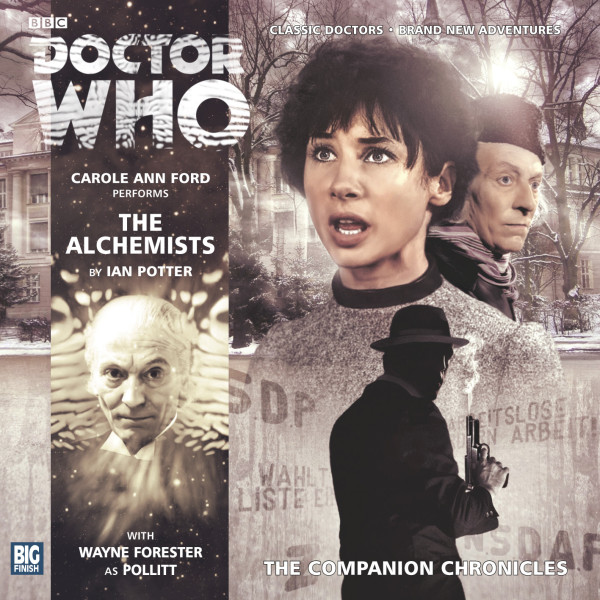 The Alchemists is a Doctor Who audio play from Big Finish Productions and is an episode from the range known as The Companion Chronicles. Ian Potter is the writer of this episode with Lisa Bowerman serving as directing. Carole Ann Ford stars in this one with Wayne Forester providing a guest role.
Susan is writing to Barbara Wright of an adventure that took place not too long after she and her grandfather fled their home planet in an erratic TARDIS. The Doctor and Susan get caught up in an adventure in 1930's Berlin when they find that they could be a catalyst for a major change in history during the time when the Nazis are getting a foothold in the country. The Doctor just wanted to meet some geniuses of that time such as Einstein, Heisenberg, and Schrodinder. Of course, it's the Doctor so a little indulgence never stays simple.
Other than this adventure taking place before the television series, not a whole lot stands out here. Ford still puts in a convincing performance, and Forester provides about three voices in this episode and does fine with all of them. The background effects were pretty good as well. All of the technical matters were handled with Big Finish's usual precision, but the story didn't quite keep me as interested as I hoped, at least not on the first listen. It may grow on me as time goes on. It's still an interesting historical period to examine in Doctor Who, and nothing stood out as being terrible in this story. It just doesn't really keep too enthralled as the story unfolds.