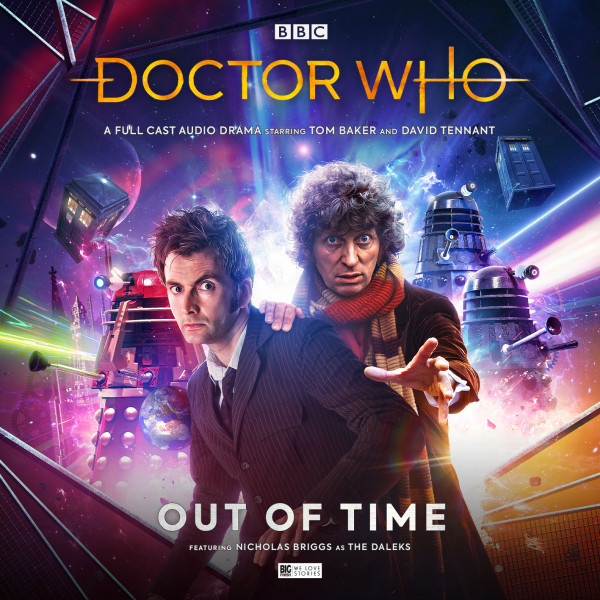 Out of Time is a Doctor Who audio drama released by Big Finish Productions. Matt Fitton is the script writer tasked with uniting the Tenth Doctor with his fourth incarnation. Nicholas Briggs serves as director as well as voicing the Daleks as they wreak havoc yet again. Tom Baker and David Tennant finally get to play in the same Doctor Who sandbox at the time. Kathryn Drysdale, Claire Rushbrook, Nicholas Asbury, and Glen McCready make up the guest cast.
The Tenth Doctor is facing the end of his life, at least his current one, and comes to the Cathedral of Contemplation where he can ponder something or other. The Cathedral exists outside of time and is an ideal retreat for the weary crusader with a TARDIS. The Daleks have their own purpose to visit, and contemplation is nowhere on their agenda. When time barriers break down, the Doctor finds a previous self also taking a break. The Doctor recognizes an amiable fellow with a mop of curly brown hair and a very lengthy scarf. The two Doctors find themselves pitted against their oldest enemy yet again.
I am usually a little leery of multi-Doctor stories, but Fitton comes up with a pretty good one. I liked the idea of the setting even if it was hard to imagine or understand at times. These two Doctors spend a little less time bickering than in previous adventures of this sort. but there is plenty of amusing moments to be had with these two. There are also one or two very profound moments as well. Baker seems to be having a good time as usual. Tennant certainly would be as well since he grew up watching Tom Baker as a young fan before he took on the role. The story itself is solid enough, but the real treat is Tom Baker, arguably one of the most iconic versions of the Doctor in the classic era, interacting with David Tennant, someone likely to be considered as iconic in more recent years.