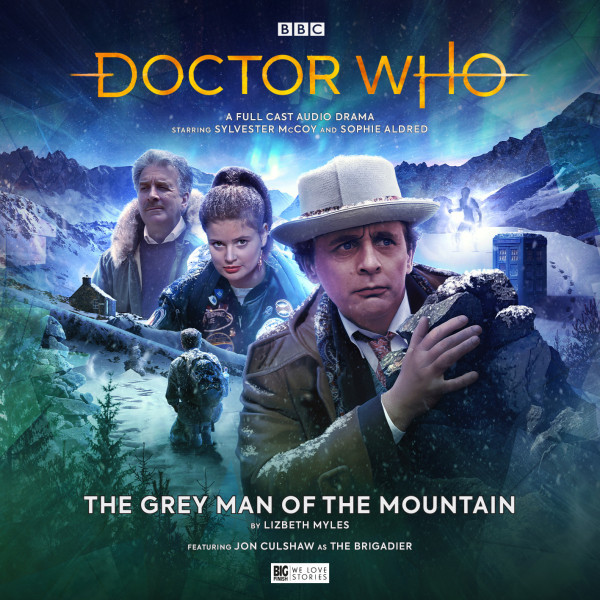 The Grey Man of the Mountain is a Doctor Who audio play released by Big Finish Productions. LIzbeth Myles wrote the script in which Samuel Clements serves as director. The character of Brigadier Lethbridge-Stewart is resurrected once again by Jon Culshaw. Culshaw does a pretty impressive vocal impersonation of the late Nicholas Courtney, who played the role for a couple of a decades in the television series and in a couple of Big Finish episodes. Sylvester McCoy is once again behind the mic as the Seventh Doctor with Sophie Aldred returning as Ace.
The TARDIS brings the Doctor and Ace to a Scottish mountain of Ben MacDul in which they are reunited with Brigadier Lethbridge-Stewart. The Brigadier is investigating the disappearance of hikers which seems to be tied to a legendary presence on the mountain known as the Grey Man. Ace and a young woman known as Kristy are separated from the others and face their own challenges as the Doctor and the Brigadier join an expedition that could bring them into the presence of the Grey Man of the Mountain.
The guest cast is also made up of Lucy Goldie, Youssef Kerkour, Vivien Reid, and Guy Adams. They were all well selected as expected by Big Finish casting.
Myles actually uses a well known Scottish legend as an inspiration for her story. Well, the legend is apparently familiar in Scotland anyway. It's a bad idea and common in the series to utilize such inspirations. Myles does a pretty good job with it.
McCoy and Aldred continue to display their impressive chemistry. It was fun to hear the Brigadier even if he was not performed by the original actor. Culshaw is known in the United Kingdom as a very talented comedian and impressionist, and Big Finish is right to utilize that.
This episode is a solid story with a some very nice treats for the long-time fans and followers of Scottish folklore.