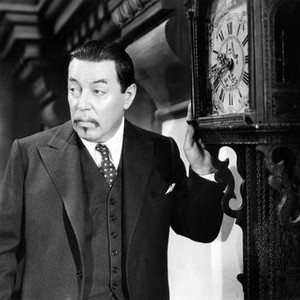 Charlie Chan's Secret is a mystery film released in 1936 and was directed by Gordon Wiles. The screenplay was written by Robert Ellis. The character of Honolulu detective Charlie Chan was first created by novelist Earl Derr Biggers. Warner Oland stars on the lead role. The cast includes of Rosina Lawrence, Henrietta Crosman, Jonathan Hale, and Charles Quigley.
The film starts off with Charlie Chan looking into the sinking of a boat which supposedly had the heir of a large fortune aboard. Chan is not sure that Allen Colby, the heir in question, in fact did perish below the sea waves. His investigation to the mainland where he finds a troubled family, a vast estate with secret passages, and murder. In fact, Colby does appear again but his death subsequently becomes more certain.
Warner Oland was one of several Caucasian actors during that time who was heavily made up to appear Asian. He puts in a solid yet stereotypical performance as a Chinese immigrant. The plot ends up getting rather absurd with quite a bit of overacting from much of the cast. Oland had played Chan in several films and does fairly well, although it goes without saying that an actual Chinese actor would have been a much better choice. But Hollywood studios did not operate that way back in the early days. This film is almost ninety years old, which is rather remarkable to realize.
Anyway, the film is a bit dull and does not really hold together when it comes to the plot. It's not terrible but it feels typical of the movies being made at the time. In spite of the numerous flaws and reasons for exasperation at Oland's performance of a Chinese protagonist, it was kind of fun to revisit Charlie Chan. I had not seen a film in this series since I was very young.
Hopefully, there are better Charlie Chan films. He is still a somewhat intriguing concept in detective fiction. On the whole, the movie isn't great, but it is still worth a look since Charlie Chan was a rather iconic piece of cinematic history.