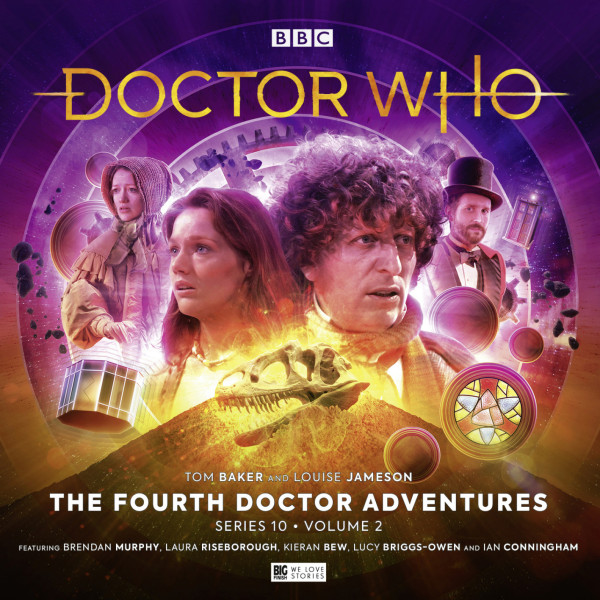 The Fourth Doctor Adventures Series 10 Volume 2 is a small collection of Doctor Who audio plays starring Tom Baker and Louise Jameson as the Doctor and Leela, respectively. They are released by Big Finish Productions with both adventures directed by Nicholas Briggs.
The first story in the dock is Andrew Smith's The Tribulations of Thadeus Nook. Brendan Murphy plays the title character, who is roguish sort who has gotten hold of his own time machine and decides to start a time touring business. The guest cast is comprised of Laura Riseborough, Keieren Bew, Georgina Hellier, Arthur Hughes, Tim Bentnick, and Christopher Naylor.
It's not the most spectacular of episodes, however there is quite a bit of amusement to be found. The Doctor comes across someone who shares some of his more reckless tendencies and handles it with his usual charming hypocrisy. Jameson is fantastic in this one as well. Once again, the performances really make what could have been a somewhat mediocre story into something significantly more enjoyable. Smith actually is an interesting writer who has been contributing to Doctor Who since the classic television era. I am not sure this is one of his better ones, however it is still far from anyone's worst. It's a fun rump that is a little reminiscent of the late Douglas Adams. It's a solidly entertaining adventure but likely not one to stand out. With as much Doctor Who as there is out there, coming up with something reasonably enjoyable is still a pretty decent accomplishment. Hopefully, it is not too long before Andrew Smith takes another run at it.
The Primeval Design by Helen Goldwyn has the Doctor and Leela meeting a rather interesting historical character known as Mary Anning in Dorset, 1830. Mary Anning was one of a very few of female paleontologists of that time. Since she is encountering the Doctor, Mary gets a little more danger than expected in her latest studies. Gigantic crocodiles are roaming the countryside and someone seems to have been engaged in some lethal experiments. Lucy Briggs-Owens, Ian Conningham, Alan David, Charlotte Bate, and Joe Sims join Tom Baker and Louise Jameson as the guest cast for this particular adventure.
Although it is pretty fun to encounter a little-known historical figure, I think I like the first story just a bit more. Sometimes, the actions were hard to visualize. The performances were solid. Once again, Big Finish demonstrates their ability to find the right people to voice these characters. Leela and the Doctor are split up which helps break any potential monotony. Leela has been written with more depth than what was seen on television, and I like that. Baker and Jameson continue to excel in their chemistry and on their own during the times when the two TARDIS occupants are separated.
Neither story is really bad, but they also are not terribly memorable. Once again, it proves that more Tom Baker and Louise Jameson are still crucial to better enjoyment of the stories.