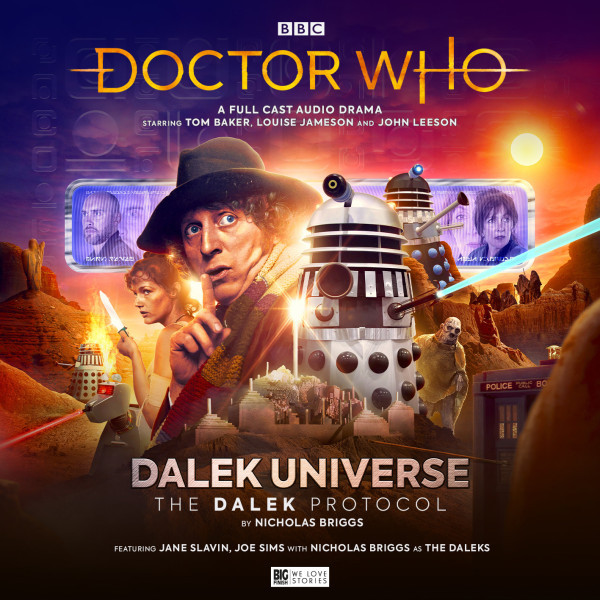 Dalek Universe: The Dalek Protocol is a Doctor Who audio play from Big Finish Productions that is both written and directed by Nicholas Briggs. Tom Baker, Louise Jameson, and John Leeson return as the Doctor, Leela, and K9. John Sims plays an android spy named Mark Seven. Jane Slavin returns as Anya Kingdom. The rest of the guest cast is comprised of Anna Mitcham, Jez Fields. and Nicholas Briggs. Briggs is a busy guy in this one. He is voicing the Daleks and playing two other characters, including an old friend from the classic story Death to the Daleks.
Accepting a challenge from his two companions that he can steer the TARDIS competently, the Doctor takes them to Exxilon, where he has visited before in the aforementioned classic serial which starred Jon Pertwee at that time. The Doctor finds a familiar threat has returned. There is someone else nearby who the Doctor has met before, but not yet.
I wasn't all that impressed with the story at first. It felt like it was dragging. however Briggs rallied toward the end when he started pulling on the threads of some complex relationships between the Doctor and a couple of the main guest characters. The performances were as good as I expect from these releases. Tom Baker still sounds pretty good, although when the Doctor is tortured or something, his cries of anguish sound a bit forced. Forced in a way that does not sounds quite genuine, I mean. I guess Tom Baker isn't all that great on faking agony when he is just on audio. Other than that, he still sounds great for a dude in his mid-eighties for the rest of it. Overall, I found my patience being tested for quite a bit while listening to this, but I found there is a pretty intriguing payoff toward the end. The story also sets up a pretty expansive saga that will be starring David Tennant a bit later.