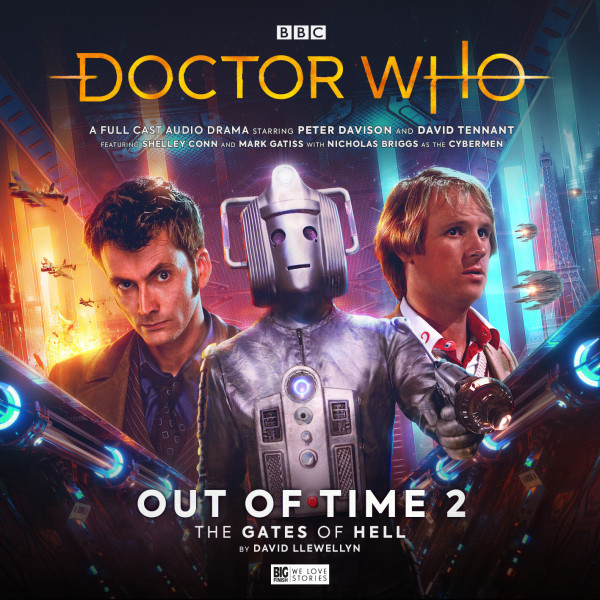 Out Of Time 2: The Gates of Hell is a Doctor Who audio play from our friends at Big Finish Productions. David Llewellyn is the author of this tale which brings the Tenth Doctor, played by David Tennant, alongside Peter Davison's Fifth Doctor. Ken Bentley serves as director of this particular tale. Nicolas Briggs returns to voice the impassive yet obsessive Cybermen. Mark Gatiss, Shelley Conn, and Glen McCready make up the rest of this relatively small guest cast.
The Fifth Doctor is taking a tour of the Catacombs in Paris in 1809 when he encounters a time agent named Tina Drake and then finds an army of Cybermen tucked away. It seems that they have been waiting for the Time Lord and keep in stasis for a time until his tenth incarnation finds him in 1944. The meeting of the two Doctors brings about a temporal catastrophe that must be rectified. At the center of the Cybermen's plan to invade the Earth and the galaxy, or whatever they want, is a misguided French guy who is in their power.
In real life, Tennant is actually married to Davison's daughter, so this is quite the family bonding time. They worked together in a television mini-episode called Time Crash several years ago. They still work well together. I thought Llewellyn came up with a clever script. Everyone in the cast seemed to hold up their end quite well. The sound design is as convincing as ever. The humor was nicely delivered, and the Doctors seemed to be having a ball in the performance. This did seem a little too familiar considering these two incarnations have already been seen together onscreen, so there was a slight since of "been there, done that", however it was still an enjoyable episode. I actually prefer the Cybermen over the Daleks when it comes to the Doctor's adversaries. I think this is a very well-chosen addition to my massive Big Finish collection.