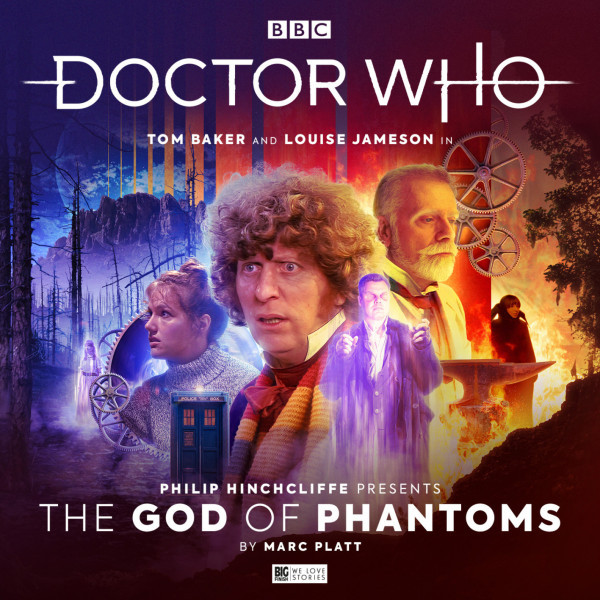 The God of Phantoms is a Doctor Who audio play from Big Finish Productions and is the latest in a range known as Philip Hinchcliffe Presents. Hinchcliffe is one the most celebrated producers of the series during Tom Baker's era in the 1970's. This story idea was adapted by Marc Platt, another long-time contributor to the franchise. Ken Bentley is back in the director's seat. Tom Baker and Louise Jameson headline this one again. The guest cast includes Aurora Burghart, Nigel Fairs, Glen McReady, and Sam Stafford.
In this rather long tale, the Doctor and Leela arrive on a colony world somewhere in the future. Ghosts are haunting the inhabitants, and people are disappearing. The Doctor also has a sense of familiarity that he cannot quite place. It seems that an old enemy is waiting in the wings, but the Doctor has no memory of a previous encounter. Also, Leela has an encounter which forces her to keep the Time Lord in the dark.
The story has quite a bit of intriguing elements which sparks my macabre imagination. Although the performances are solid and the sound effects are spot on, this wasn't what I call one of the best efforts. It's a six part story, and I am not sure this was the one that needed to be drawn out. Tim Faulkner plays the villain known as Flindor. Although the Doctor may have encountered this being before, he is not known to the fans. I have to say, one appearance by this character is more than enough. I just didn't find this guy to be all that well realized or compelling as a villain. It still features my favorite Doctor, and the story still avoids being terrible. I am one of the fans with an appreciation for the Philip Hinchcliffe era, but I am not sure this episodes stands up as well as the previous ones in this range. The problem Leela has with keeping a secret from the Doctor or risk him losing his sanity is an interesting predicament. Baker and Jameson are both great to hear even in this adventure. Anyway, the story may have worked better being a standard four part length, but it isn't like it's a terrible experience getting some extra time with the Fourth Doctor and Leela.
In spite of my reservations about this particular installment, I do hope that Philip Hinchcliffe has some more ideas to share, and I also have no objection to Marc Platt's continued contributions. Of course, my enthusiasm for the continued participation of Tom Baker and Louise Jameson goes without saying. Whatever Hinchcliffe presents next, I will be there to snatch it up.