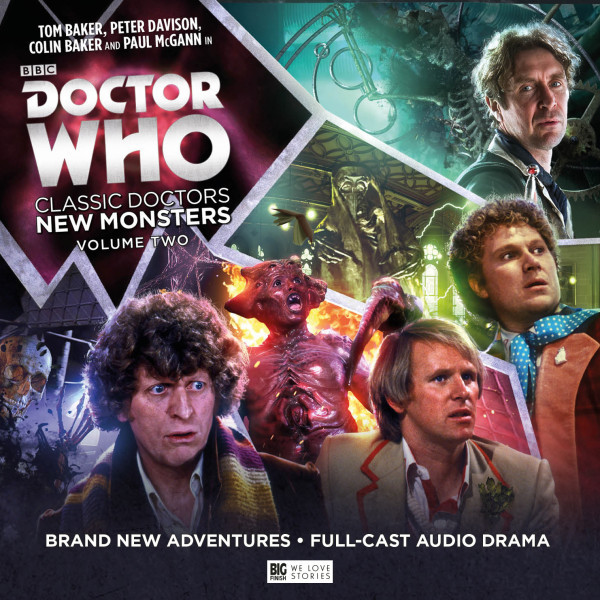 Classic Doctor, New Monsters Volume 2 is a Doctor Who audio boxset from Big Finish Productions directed by Barnaby Edwards. There are four stories which features a Doctor from the classic era of the series facing an adversary introduced during the show's revival beginning in 2005.
The collection starts off with Tom Baker starring in John Dorney's Night of the Vashta Nerada. He is joined by a guest cast comprised of Pam Ferris, Lorelie King, Emma Lowndes, and Matt Devitt. The Vashta Nerada was a race made up of shadow that could devour a person in seconds. The gigantic resort known as Funworld has had its constructions ceased suddenly when reports of some kind of predator emerged. The owner and a group of galactic pest exterminators arrive and encounter a mysterious traveler known as the Doctor. The Vashta Nerada was introduced in the Tenth Doctor episode Silence in the Library where they were lurking around an abandoned planet-wide library. This time, it's a global amusement park. This one seems a little too familiar at times, but Tom Baker's Doctor still makes it worthwhile. Besides, I tend to like stories of this sort anyway. Dorney, as usual, provides a solid kickoff to the set.
Empire of the Racnoss is written by Scott Handcock and stars Peter Davison alongside Adjoa Andon, Nigel Planer, Andrew French, and Lisa Kay. The Racnoss were first seen in another David Tennant television episode entitled The Runaway Bride. The Racnoss are part humanoid and part arachnid with a particular way of speaking that involves a lot of hissing and spitting. The Racnoss were in only one episode, but this time we are treated to a previously unknown encounter with an earlier Doctor. They are said to be ancient foes of the Time Lords. The Doctor also finds himself enmeshed in quite the domestic squabble as well between the Empress, her husband, and the new consort. This episode was nothing spectacular, however it was not without some merit. It's a reasonably enjoyable adventure with solid performances and great post production work. That's usually how it goes with most of Peter Davison's episodes for me.
Break out the potions and spells for this next one as Colin Baker steps up to the mic for Simon Guerrier's The Carrionite Curse. The Carrionites resemble the popular depictions of witches….hooked noses, warts, and all. The Carrionites had an interesting weakness when it came to complex vocabulary. As one of the Doctor's more verbose incarnations, he can make good use of that. The guest cast is comprised of Maya Sondhi, Andree Bernard, Adele Anderson, and Michael Fenton-Stevens. Anyway, it turns out this was a pretty fun one although there is a bit of grim ending. Colin Baker is great here, as he has been for many years with Big Finish.
The Vashta Nerada return to wrap up this set with Matt Fitton's Day of the Vashta Nerada which starts Paul McGann, who is joined by Jacqueline Pearce, Jan Ravens, Himesh Patel, and Tim Wallers. The Doctor finds a laboratory that has been experimenting on Vashta Nerada to be used in the Time Lord. Even more troubling is when Cardinal Ollistra turns up to confound matters more. Of couse, The Vashta Nerada break out and sends the Doctor and his reluctant allies on a flight from the shadows.
The whole boxset is actually quite good. The Doctors are all very compelling which is of no surprise. The idea of mixing Doctors and monsters this way is perhaps inevitably predictable, but it was well executed here.