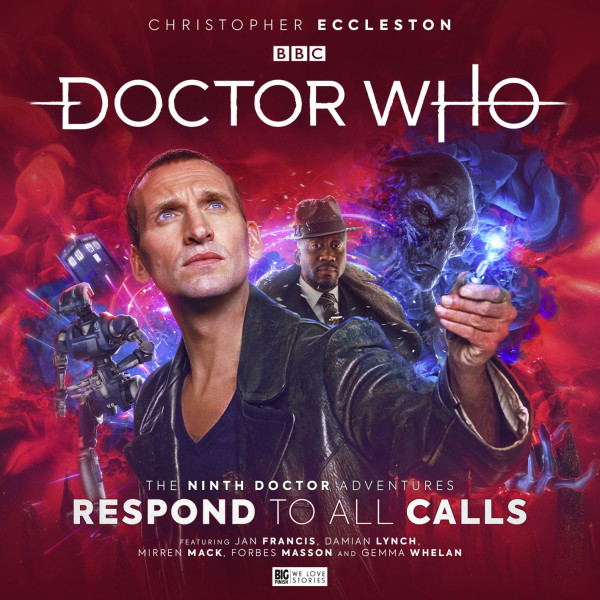 The Ninth Doctor Adventures: Respond To All Calls is a Doctor Who audio boxset which has Christopher Eccleston back in the studio playing the Doctor. The set is directed by Helen Goldwyn. There are three stories in which the Doctor answers some call of distress. Big Finish Productions does it again.
Girl, Deconstructed is the first story in this set and is written by Lisa McMullin. Pearl Appleby, Mirren Mack, Forbes Masson, and Benjamin Davies make up the guest cast. The Doctor answers the cry for help from a teen-age girl whose molecules have been separated and is alive in spite of the transformation. He learns of other youngsters who have disappeared mysteriously over many years. He and a police detective must find a way to arrange some family reunions. This turned out to be a strong start to the series. There is a bit of unexpected family drama. Eccleston sounds fantastic here. This may actually be my favorite out of this collection.
Fright Motif is written by Tim Foley with Damian Lynch, Gemma Whelan, and Adrian Schiller joining Eccleston. The Doctor finds an alien creature in Paris just after the Second World War that feeds on the musically gifted. There is plenty of that sort of sustenance in that time and place. It's a pretty good story and also deals with a musician who has lost his ability to play. It's a solid middle of the road sort of tale. The performances and the post-production work is good. It doesn't have the same punch as the previous episode, but it works well enough.
Timothy X. Atack wraps up this collection with Planet of the End. The cast providing their voices is made up of Margaret Clunie, Akshay Rhanna, Jan Francis, and Nick Fletcher. The Doctor finds himself trapped on a planet with an unusual AI he dubs as Fred. An alien corporation has their own plan for the Time Lord. This one took a little bit of time to really get into, but it ended up turning out pretty well.
All three episodes actually turn out pretty well. I mentioned that the first one was probably the strongest for me, but the others were not disappointing by any means. It is great that Eccleston has returned to the role in this way. I appreciated the variety in the writer selection in this one. I don't think they are first timer to the Big Finish Doctor Who range, but they don't appear to be the more regular contributors, which I appreciated. I have nothing against the more prolific scribes in this range, but it's nice to to see some new blood show their stuff. I am glad that I responded to the call to purchase this latest set.