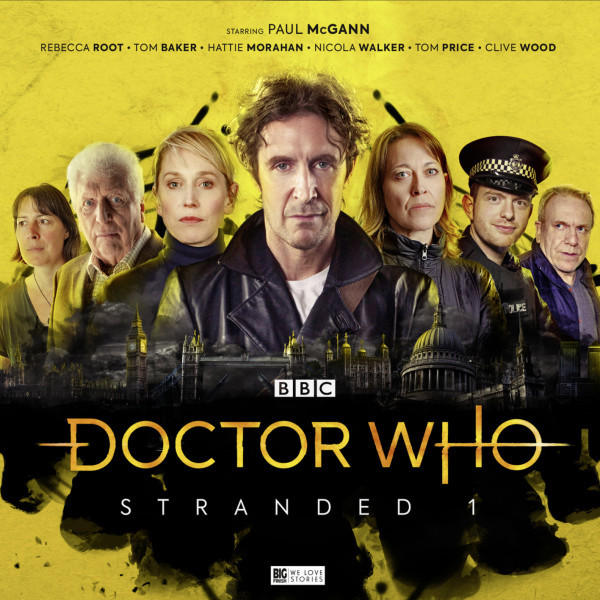 Stranded is a Doctor Who audio boxset from Big Finish Production with four episodes starring Paul McGann. This collection is directed by Ken Bentley. McGann is joined by Nicola Walker and Hattie Morahan as Liv Chenka and Helen Sinclair, respectively.
The TARDIS has been completely disabled on twenty-first century Earth. The Doctor and his two companions have taken up residence at his place on Baker Street in London. They find that someone from the Doctor's past had turned the house into a small apartment complex. The Doctor has become an unwilling landlord as he attempts to get his TARDIS up and running. Just when the Doctor is getting more frantic to get back to his travels and the dangers, the trouble comes to him.
The guest cast includes Tom Baker, Rebecca Root, Tom Price, and Clive Wood. Rebecca Root has the distinction of being one of the first transgender actors in this series. Her character Tania Bell becomes a love interest for Liv. Fortunately, there are more interesting things going on as well.
Matt Fitton starts off with his story entitled Lost Property. Liv and Helen encounter a peculiar old man who says that he is a Curator of a rather unique museum exhibit. Tom Baker reprises the role he had from the fiftieth anniversary special that aired on BBC in 2013. This is a pretty slow one, but it does introduce the other residence competently enough. It also has Tom Baker, so that raises the appreciation significantly.
Wild Animals is written by John Dorney. The Doctor has a mission when Liv Chenka is wounded in an armed robbery, and a new friend is murdered. The Doctor is becoming more stir crazy being stuck in one place and time, so this random crime becomes more an obsession. Also, it seems that the Doctor, Liv, and Chenka are not the only ones with secrets.
Must-See TV is penned by Lisa McMullin and introduces a peculiar new resident named Mr. Bird. It seems that there is some extraterrestrial surveillance going on. Tania seems to have a connection to an organization that becomes very important to the Doctor's future. The Doctor is getting closer to more familiar territory when an alien presence is becoming more pronounced.
David K Barnes wraps up this set with Divine Intervention. Now, the aliens have arrived, and they are on a mission to kill the Doctor for something that occurs in his future. Of course, that could create the dreaded time paradox. The residents of Baker Street are about to get an up close and personal look at what the Doctor actually does when his TARDIS works properly.
This new series was actually more enjoyable than I anticipated, but it does take a little patience especially during the first two episodes. Paul McGann seems to have lost none of his enthusiasm for this role. Some of the character moments actually managed to be interesting. Overall, this latest turn in the Doctor's journey has been quite interesting, but I hope to have him out among the cosmos quite soon.