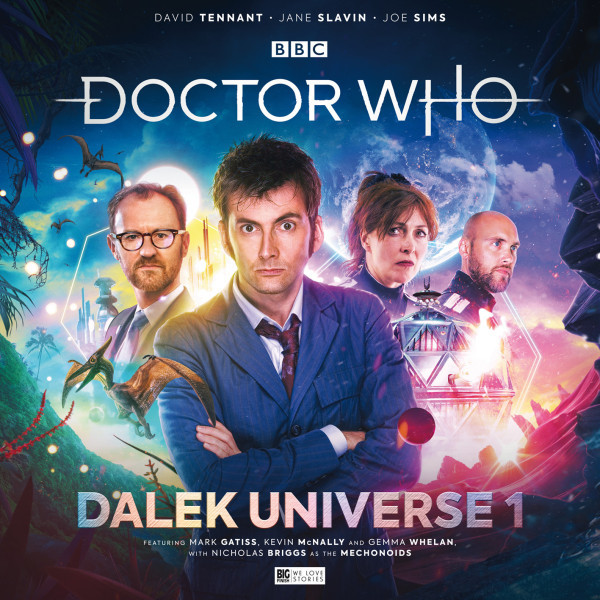 Dalek Universe 1 is a Doctor Who audio boxset starring David Tennant. It is a recent Big Finish Productions set directed by Ken Bentley. Tennant is joined by Jane Slavin and Joe Sims as Space Security Agents Anya Kingdom and Mark Seven. The Doctor has encountered them before in a previous incarnation. This time, they join him in a saga involving the Daleks. This set has three episodes.
John Dorney kicks off this set with Buying Time that contains a guest cast Gemma Whelan, Mark Gatiss, Juliet Aubrey, and Chris Jarman. Agent Anya Kingdom finds a crashed spaceship on a jungle planet. She meets up with a ruthless businesswoman and an android colleague. She also finds a displaced Time Lord. Predators are closing in, and the Doctor is without his TARDIS. The Doctor also may find his life ending earlier than he realizes. It's not a bad start, but Dorney is one of the more reliable writers at Big Finish. Tennant returns with his usual energetic presence. Slavin and Sims also work well with this Doctor, but most everyone at Big Finish knows how to play well with others.
Dorney also introduces The Wrong Woman with a surprise regeneration. I was not sure I was going to appreciate this one with another surprise version of the Doctor, but it turns out to there is quite a clever twist going on here. This one turned out to be pretty entertaining and intriguing.
Andrew Smith wraps up the set with The House of Kingdom. Kevin McNally, Maria Teresa Creasey, and Nicholas Briggs comprise the guest cast here. Anya has a very uncomfortable reunion with her grandfather. The audience gets t find out a little more about her. The Mechanoids are also around as well. An attack on a space station around Neptune interrupts any possible reconciliation between the Kingdoms. Of course, a dangerous contagion can interrupt the lives of the Doctor and his companions. It was a good wrap on a promising new saga.
There is more to come with the Doctor lost during the Time War. I am in for the remainder of that ride unsurprisingly.