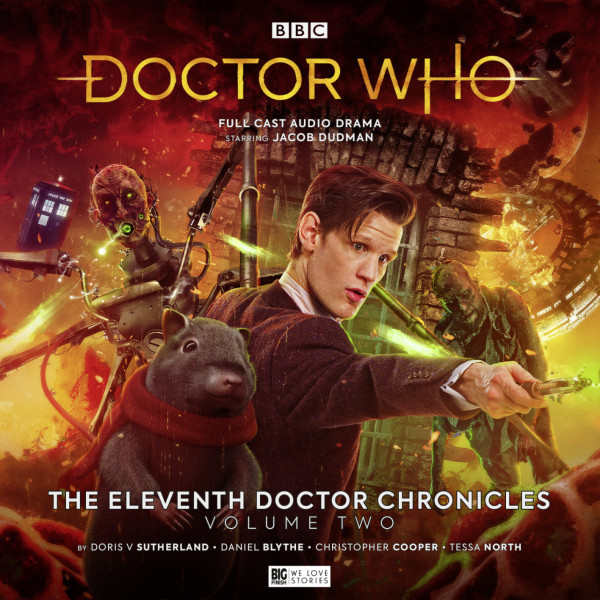 The Eleventh Doctor Chronicles Volume Two is another boxset of audio plays from Big Finish Productions. The set would star Matt Smith if he had chosen to participate, however since he has yet to join the party, Jacob Dudman manages to pull off an uncanny impression in order to keep the Eleventh Doctor in the fold. Nicholas Briggs directed this collection of four adventures.
Doris V Sutherland starts off with The Evolving Dead, the Doctor arrives on a research station in space and encounters a couple of people who have died and yet remain undead. The other crewmembers are not quite as evolved in their new status and just have a hunger that the Doctor may have to satiate in a way that would not meet his preferences. Dudman is joined by Ayesha Antoine and Tom Alexander. This turned out to be one of the stronger and more enjoyable episodes in the collection. The Doctor called his latest acquaintances zombies, but they are a little more than that. There is also some past relationship issues between the guest characters that is well handled. Sutherland seems to be new to the Big Finish roster of writers, and she has a promising start.
Daniel Blythe is a writer who I recognize from the days of the original novels a couple of decades ago, and he presents the listeners with The Day Before They Came which takes place in an English seaside town. Jo Woodcock, Joe Barnes and Jacob Daniels are included in the guest cast. The Doctor encounters a young girl who claims to be an alien observer, however there also seems to be a more hostile presence that must be found. I enjoyed the banter between the Doctor and the girl named Kayla. It turned out to be a solid story. I should also admit that I have a fondness for sleepy English villages that face unworldly troubles. Seeing Blythe's name on the credits did strike a nostalgic chord.
My enjoyment starts to wobble a bit with The Melting Pot by Christopher Cooper. Milly Thomas and, Joe Jameson, and Nicholas Asbury lend their vocal talents to this release. The Doctor arrives on a planet called Piir where some unusual violence has broken out. A mysterious figure known as Preacher Stem seems to have some answers, but he does not appear to be an ally to the Doctor's. It's not a complete disaster, but I found it to be somewhat forgettable. I think was put off by aliens that had this weird chirping because they were some kind of rodent species. Anyway, they all can't be winners.
Finally, the collection closes with Tessa North's script entitled A Tragical History. Bethan Dixon Bate, Laura Aikman, and Jenny Lee help out here. The Doctor arrives in a prison for women in the early eighteenth century. Another alien presence is allowing these women to have idolized versions of their situation in their own minds. The Doctor is about to be offered a way to obtain all that he desires, but there may be a cost that is way more than he could afford. This episode is a little better than its immediate predecessor, but it's not one that I really found all that special.
Dudman's interpretation of the Eleventh Doctor is quite compelling. Once again, the performances still help considerably when the script is somewhat lacking in quality. This collection overall left me with a mixed reaction. There was nothing I truly hated here, but the last two stories just failed to resonate with me all that much. I did appreciate that the narration in the first volume of this range was ditched in favor of a straight full cast audio play. All of the writers managed to keep the Doctor's zany character consistent. All of the scripts had some amusing dialogue, but my attention waned a bit in the second half of this collection. Although this release is not a total failure, it falls short of a resounding success.