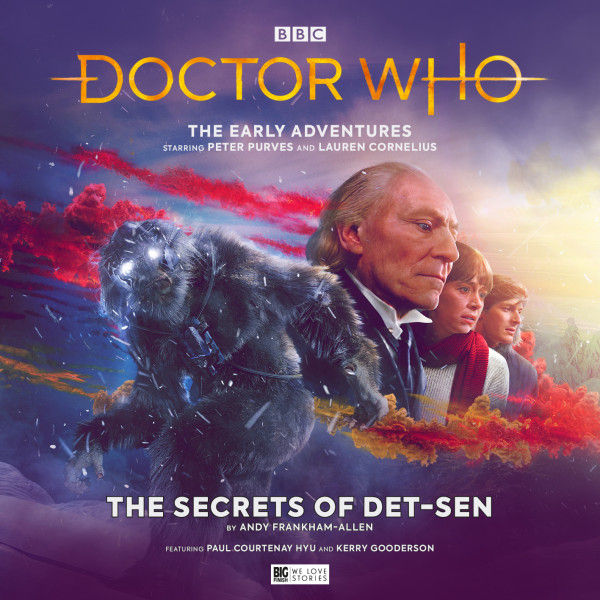 The Secrets of Det-Sen is a Doctor Who audio play from Big Finish Productions and is one of the latest episodes from The Early Adventures range. This play is written by Andy Frankham-Allan with Lisa Bowerman back in the director's chair. Peter Purves is quite busy here reprising his original role of Steven Taylor, performing an impression of the First Doctor, and narrating the tale. Lauren Cornelius resurrects the character Dodo Chaplet, who was originally portrayed by Jackie Lane in the television series in the 1960's. Paul Courtenay Nyu, Kerry Gooderson, Jeremy Ang Jones, and Jamie Zubairi join the cast as well. The story also serves as a prequel to the television serial The Abominable Snowmen, which had starred Patrick Troughton.
The TARDIS has brought the Doctor, Dodo, and Steven to the Himalayans where they join a pilgrimage to a monastery where the Doctor will one day return. The Yeti are lurking up on the mountain, and bandits are also waiting to strike. The Doctor learns that there are other secrets Det-Sen keeps that he must help protect from traitors and thieves.
Purves does quite well in fulfilling his various duties. I am getting more used to other actors playing the earlier characters. Jackie Lane never chose to participate in the Big Finish recordings, and she has recently died. I am not sure how close Cornelius gets to capturing the essence of Lane's portrayal, but it does open the door to explore a certain section of this Doctor's era for Big Finish to play in. The story was somewhat interesting but not that captivating. The performances help greatly as usual. Purves can't quite do a perfect impression of William Hartnell's Doctor, but he gets just close enough to not make it terribly distracting.
Some of the purposes this story serves is more interesting than the actual plot. It brings Dodo back and does open some interesting door. It also fills a hole in the Doctor's background that was mentioned in the The Abominable Snowmen. This turned out to be an episode that I don't regret purchasing, but it ma just have to grow on me when I eventually get around to hearing it again.