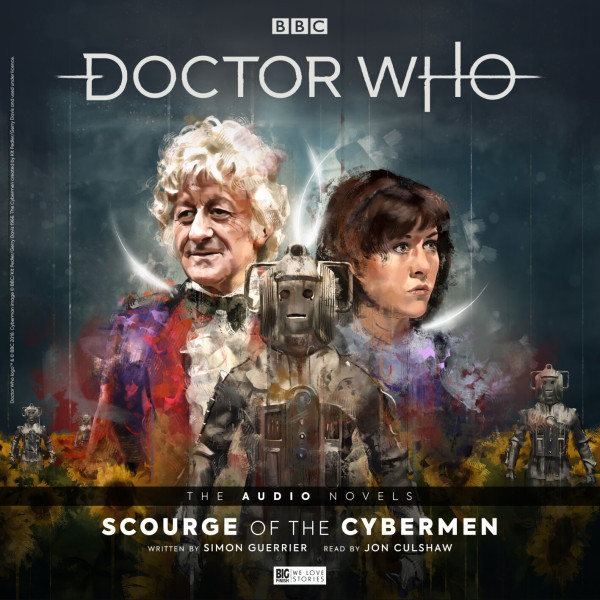 Scourge of the Cybermen by Simon Guerrier kicks off a new range of Doctor Who audio novels for Big Finish Productions. Jon Culshaw narrates this piece and does a very impressive impression of Jon Pertwee as the Third Doctor. Nicholas Briggs lends his voice and voice modulator to bring back the dreaded Cybermen. The Third Doctor had never faced these silver monstrosities on television, so Big Finish decided to have this match-up and it's a pretty good idea.
The Doctor and Sarah Jane Smith are helping with pollution reduction and producing clean energy on an alien world. When radiation sickness starts to emerge among the other residents of the base, the Cybermen appear with a chilling proposal. The people can survive as long as they agree to join their emotionless, relentless ranks. The Doctor, of course, has no interest in agreeing to this no so magnanimous offer, but he has fallen victim to the sickness as well. It's up to Sarah to help the others to keep their spirits willing to fight for their souls.
This is a lengthy tale clocking in at about eight hours. Culshaw is a great narrator, and his enthusiasm for the series does seem to shine through. Guerrier uses the extra time well for the most part. There are some interesting new characters and relationships. Sarah finds a new friend, but a betrayal is soon to come. It's really Culshaw that pulls this together. The Cybermen are also utilized well. I actually tend to prefer them over the Daleks when it comes to well-used adversaries for the Doctor. The story also starts off with the Doctor and Sarah already ingratiated within the sea base personnel. Guerrier is a prolific and effective writer for the series. I think he was a fine choice to start this new range. Even though this story takes place pretty early in Sarah's association with the Doctor, the trust and worry she shows for him still seemed to come off believable.
Big Finish continues to make solid casting choices, and Culshaw will likely be a favorite storyteller and performer. He has proven his talent time and again already. Guerrier is also a reliable selection to debut this new series. As much as I love the idea, it still takes some patience to get through this particular one but not that much. There is no shortage of reasons to find enjoyment with this one.